About Denali, Alaska
Denali, called Mount McKinley from 1896 to 2015, is a mountain rising 6,190 meters above sea level in the Alaska Range. Denali is the highest point in North America and is, therefore, one of the Seven Summits. It is covered with glaciers.
Its remarkable height, extreme climate, and arctic location make it one of the most challenging peaks to reach in the world. As such, Denali remained unclimbed until 1913.
Since 1917, the mountain has been part of the protected area of Denali National Park. The normal route through the western foothills was opened in 1953. From 1975 to 2015, it was the subject of a dispute over its renaming before regaining its native name.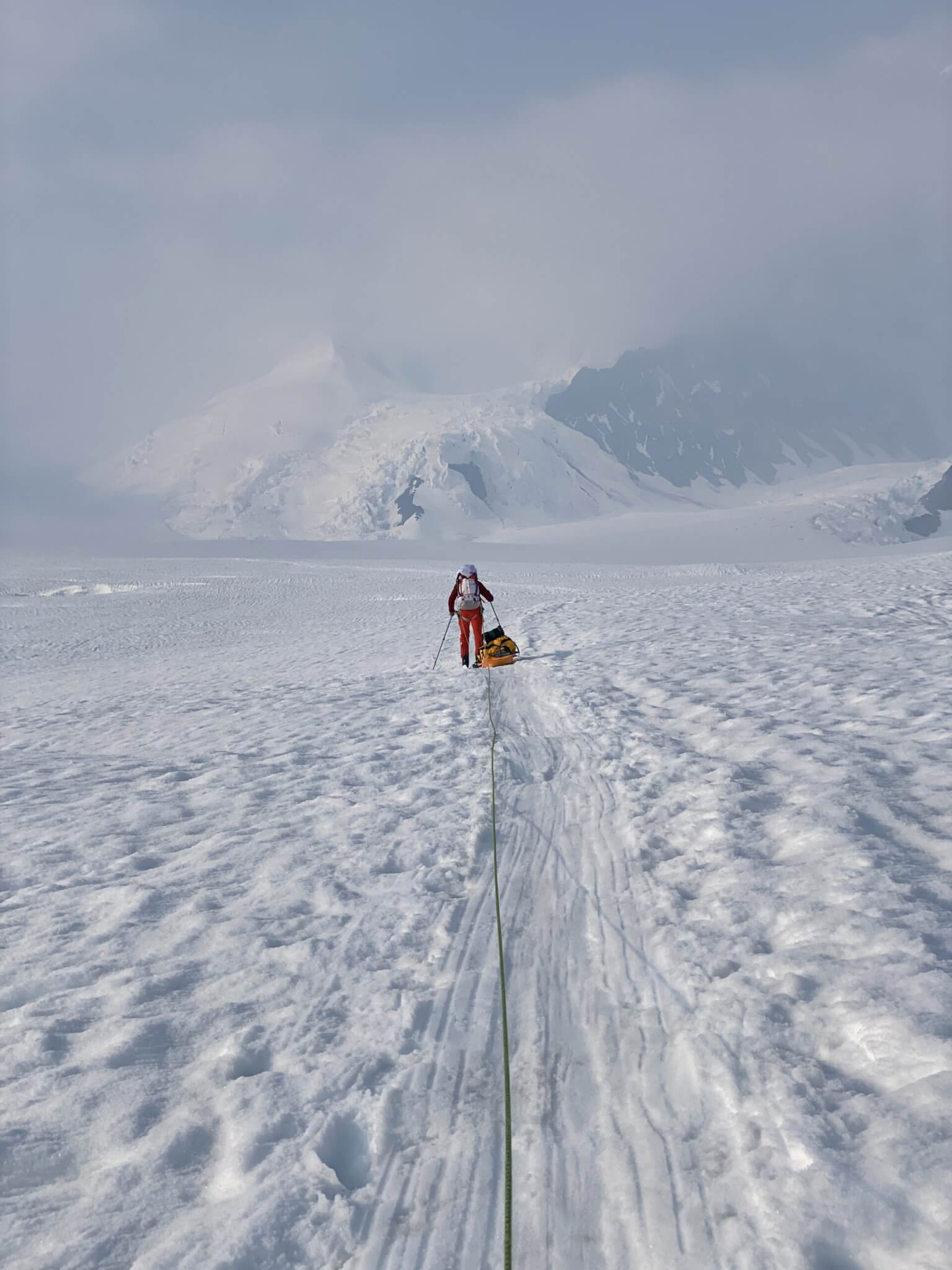 Expedition goal
The three weeks project is to explore Denali's south face. The goal is to open a new route next to the Cassin ridge. Then, we can attempt a Day Ascent of the Mountain. This would require more rest before and after—climbing and skiing around Base Camp. (Annes Ridge Couloir Skiing, Mt Francis SW Ridge, Mini Mont Flower, Romen Couloir on Mt Hunter):
PLAN A Climb Cassin Ridge – One of the Most Iconic Climbs on the Mountain. It would require a minimum of 4 Days from Base Camp.
PLAN B Ski South Face of Denali – Ascend and Descend Via the same Itinerary
PLAN C West Rib – Ski Descent SW Wickwire
The team for our expedition in Alaska, Denali
Gaspard Ravanel
Gaspard is a young and talented snowboarder living in Chamonix.
He is a ski instructor but also loves paragliding and mountain biking, and he is now eager to discover new mountains!
Sponsored by TNF, Jones Snowboards, Smith Optic and Plum bindings.
He will be at the head of « la nuit de la glisse » in fall 2022 and a documentary on a Peruvian trip from 2021, released this fall on Netflix. He also plans to pass his guide diploma high mountain next year.
Guillaume Pierrel (myself)
Ski instructor for 15 years, currently aspiring Mountain Guide UIAGM and ANENA trainer (Snow and Avalanche specialist)
For a few years now, he has been setting up expeditions abroad, first 6000m+ one push in Bolivia solo and on skis in Peru (first ski descent W face at Tocllaraju 6080m). In August 2019, he ran the Sky Running on Lenin Peak, the world's highest race culminating at 7134m.
At the initiative of spring 2020, the first repeat of the N Face of la Blanche de Peuterey without abseil (with Vivian Bruchez, Tom Lafaille, Boris Langenstein & Tiphaine Duperrier)
Summer of 2021, his expedition achieved a worldwide premiere on skis of the south spur at Gasherbrum II (8035m); he directed the film « ô'parizad », currently in cinemas and international festivals.
Inside our expedition Alaskan expedition to Denali
Step 1 Waiting for a good weather window
Before leaving, we met Mike Porter, that finally bet the record on Slovak ridge: 17hours.
Then met Fay Manners with her friend Michelle coming back from Cassin ridge in 3 days. Inspiring girls on their best days. I finally met Nims Dai (himself), that was here for four days doing the summit push with his Qatari client.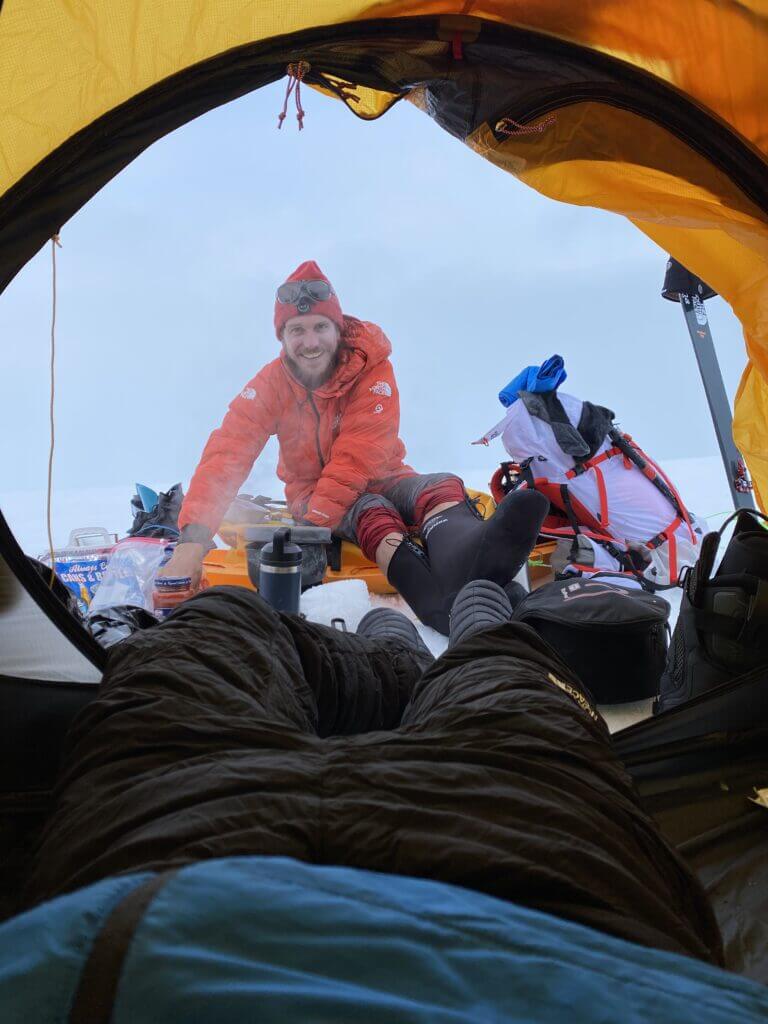 Step 3 Reaching goal – West Rib Ski descent
Due to very dry and icy conditions on the Denali this year, we declined to reach the Cassin ridge by the Seattle ramp because we were very conscious that the blue ice was giving us no return and a high-risk non-return option since we engage in the face.
The aim was to glide, not to abseil down.
Based on this observation, we decided to reach the summit by one push on the West Rib; without acclimatization nor tent, we went by fair means in alpine style on this mixed snow and rocks ridge. Beautiful view over the Camp 4/ 14OOOft; after a cold night (-30°celcius + strong winds), we finally reached the top of North America 6190m (20'320 ft).
Alone on top, after some pictures and reflection on the south face (big initial plan), we descended the west rib by the orient express couloir.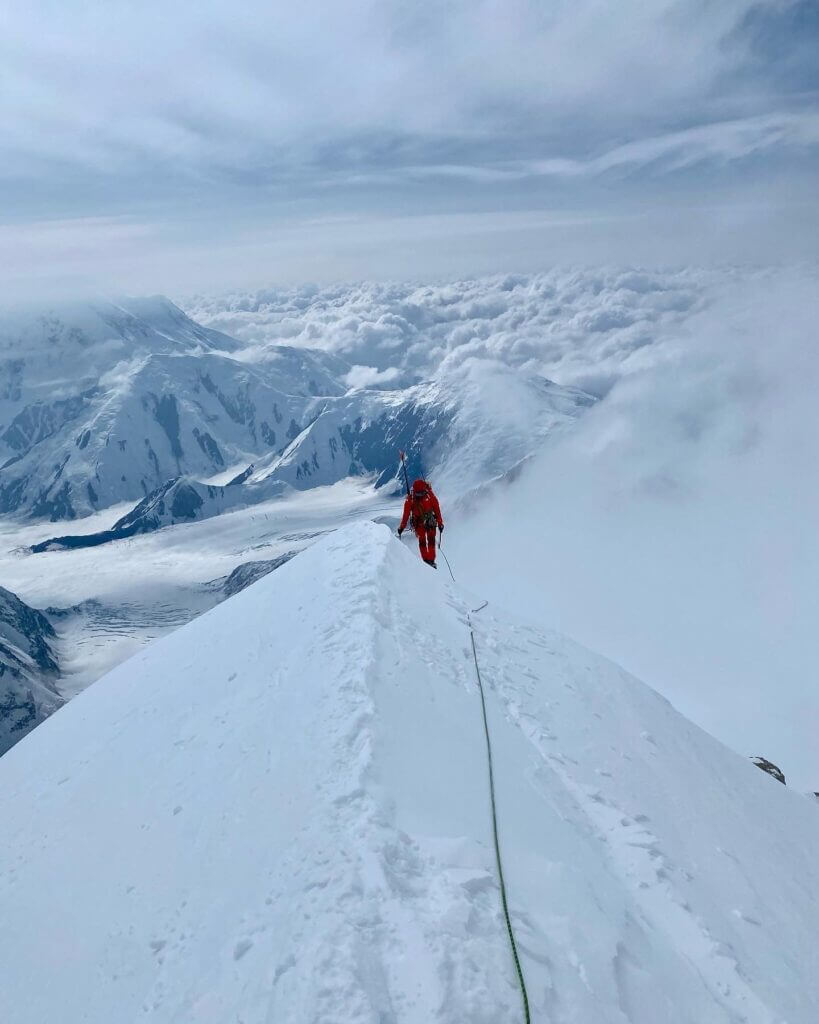 We met at the C4, a crew of famous alpinists/ Snowboarders from the USA, doing a charity to help raise awareness for mental health. Most of them are in the snowboard and outdoor industry:
Zak Miller, pro rider member of the « Zabardast » expedition and movie in Pakistan back in 2018
Amanda Leigh Hankinson: Pro athlete TNF – in charge of this event (charity S.T.A.Y.)
Emilé Zynobia: Operation coordinator for "Natural selection" in Jackson Hole.
We rode some lines around this area, such as « gully rescue couloir » from 5600m. And had a chess party and drank coffee in a warm crew atmosphere.
Conclusion of our expedition to Denali, Alaska
Looking back at this expedition, we have no regrets about not doing the big line we were looking for. No filming projects were established without any pressure on our shoulders; this experience was good to reinforce our team and find a shared passion for such projects. The first experience with the pulkas, good logistics and strategy will remain a cheerful souvenir and kick-off for our following projects.
And we reached the summit and came back safe and in shape; what else?