Scafell Pike is the highest mountain in England and an exciting challenge for all outdoor enthusiasts. The views at the top are stunning, and on a clear day, you can see peaks as far as Scotland. It's not the highest mountain in the world (that would be Everest), but the climb is tough enough to make the experience worthwhile.
If you are a beginner in mountain climbing or never went to Scafell Pike before, you may want to employ the help of a guide. Following the right route, you can even finish climbing Scafell Pike in a day. Find out more about the highest mountain in English lands and the best way to climb it.
Scafell Pike – The Highest Mountain in England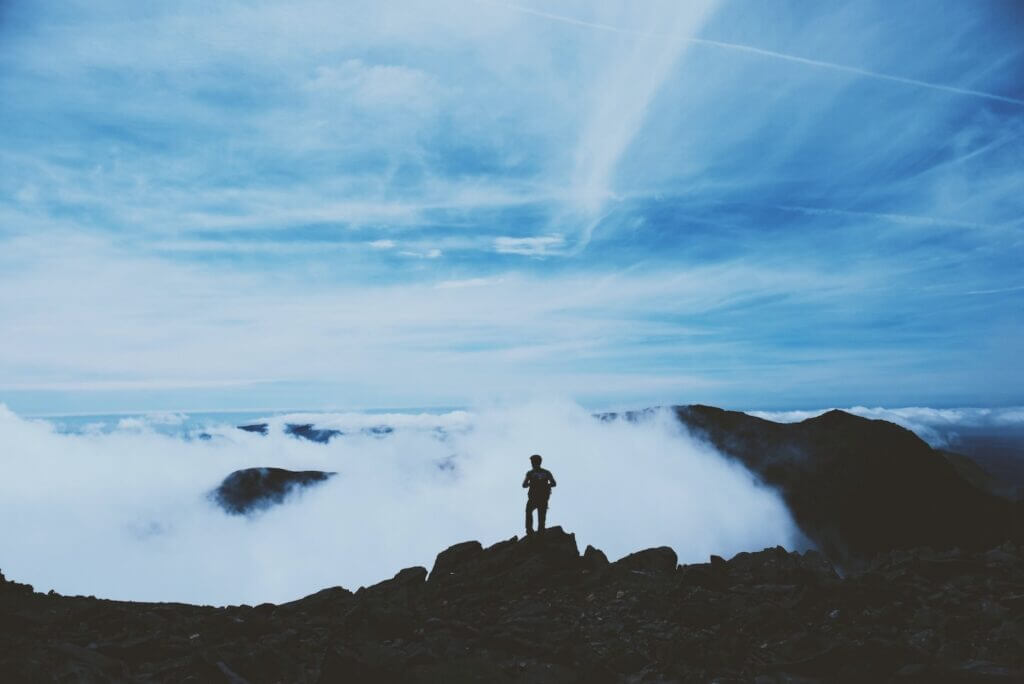 At 978 m (or 3,209 ft.), Scafell Pike is undoubtedly the highest mountain in England. It attracts climbers like a magnet. It's a year-round destination that bustles with climbers, no matter if it's on a warm summer day or a snowy winter day. That being said, the mountain is quite challenging. This is why you should have a fair amount of climbing experience for winter hikes.
If you ever wondered "what is the highest mountain in England called" and came across Scafell Pike, you probably wanted to know why it was called that way. The name "Scafell Pike" originates from the Old Norse, a language commonly spoken by Vikings in the 9th century.
When they invaded and settled in England, they began exploring the lands, going all the way to the top. They named the mountain skalli fjall, where fjall means "fell" (mountain) and skalli means "bald summit" (i.e., lacking vegetation). In the end, the pike was loosely translated into "the mountain with the bald summit."
Scafell Pike is pretty much a horseshoe of high fells that surrounds Eskdale and opens to the south area. On the west, there is the cirque, the north sees the Great End, and there's Scafell to the south. Overall, it is a stony summit mountain area that ends at Broad Craig Col. While it is not the tallest mountain in the world, it is still a goal for every climber living or passing through England.
Climbing the Highest Mountain in England from Wasdale
Overview
Distance: 9 km (5.6 miles)
Total ascent: 900m (2950 ft)
Length: 4 to 5 hours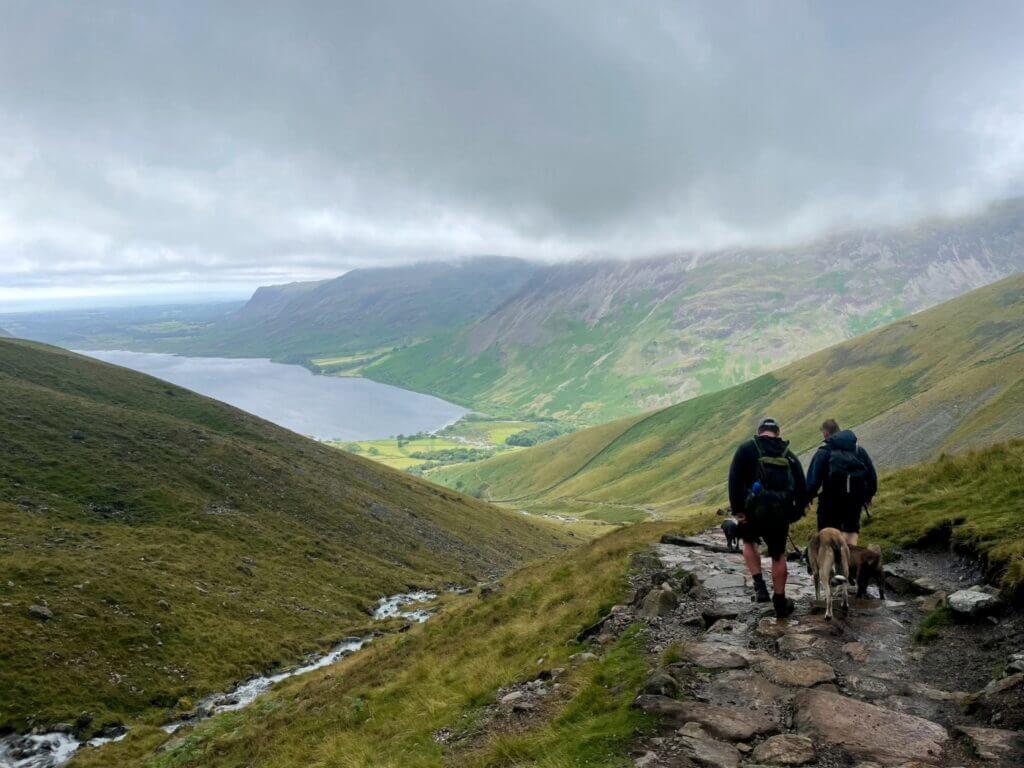 The route
The fastest route to climb up Scafell Pike is via the Wasdale route, which can take around 4-5 hours. There are about 9 km to climb and a 900 m total ascension as you go up. This route is also a great option for beginners, as you have the Wastwater campsite and Wasdale Head pub en route.
To get the best experience, most climbers start their hike from Seathwaite, as it gives them more walking distance. That being said, if you are not much of a climber and want to have an easier climb, this route lets you start at Wasdale Head. Your starting point is the National Trust Car Park. The route is longer but not as steep, making it much more pleasant for those who just want to enjoy a nice hike.
The route from Wasdale Head has numerous terrain farm tracks, narrow rocky paths, stony bridleways, rocky gills, steeps, and rocky summits. Make sure to equip yourself with warm layers and good footwear, as the weather is not always predictable.
Climbing the Highest Mountain in England from Borrowdale
Overview
Distance: 14 km (9 miles)
Total ascent: 1,000m (3,280 ft)
Length: around 6 hours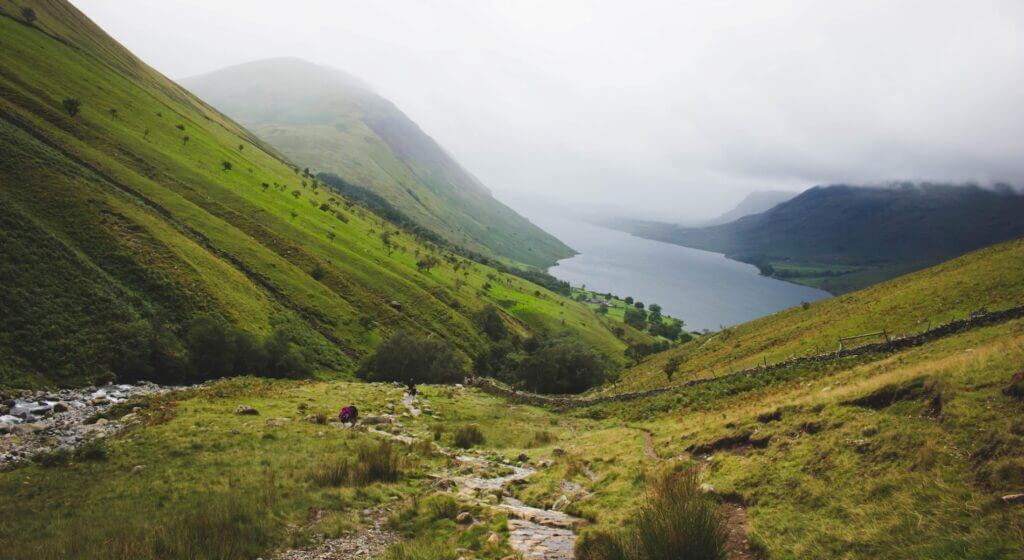 If you want to give yourself a bit more of a challenge, you could consider climbing Scafell Peak from Borrowdale. This is a good route for intermediate climbers that went hiking or climbing before and are not bothered by a couple of steep rocks. The route is slightly more strenuous as compared to the one from Wasdale. Still, the scenic views are also all the more intriguing.
The route has around 14 km (9 miles), and you should be able to finish it in about 5-6 hours. It mainly depends on the weather condition and your own pace. You have a 1,000 m ascent in front of you, so make sure that you have a pair of good climbing shoes.
The starting route for this climb is Seathwaite, where you can leave your car at the roadside near the Seathwaite Farm. Parking is usually free of charge, but as summers can get very crowded, the farmer allows for paid parking which can be booked ahead of time.
This route will take you through farmlands and then into an open valley. There is a beaten track that will take you straight to the Stockley Bridge, which you are supposed to cross. You will see a path on your left that will follow the Grains Gill River. The route starts with a gradual, easy ascent, becoming steeper as you go higher.
Climbing the Highest Mountain in England from Langdale
Overview
Distance: 18 km (12 miles)
Total ascent: 1,400m (4,590 ft)
Length: around 8 hours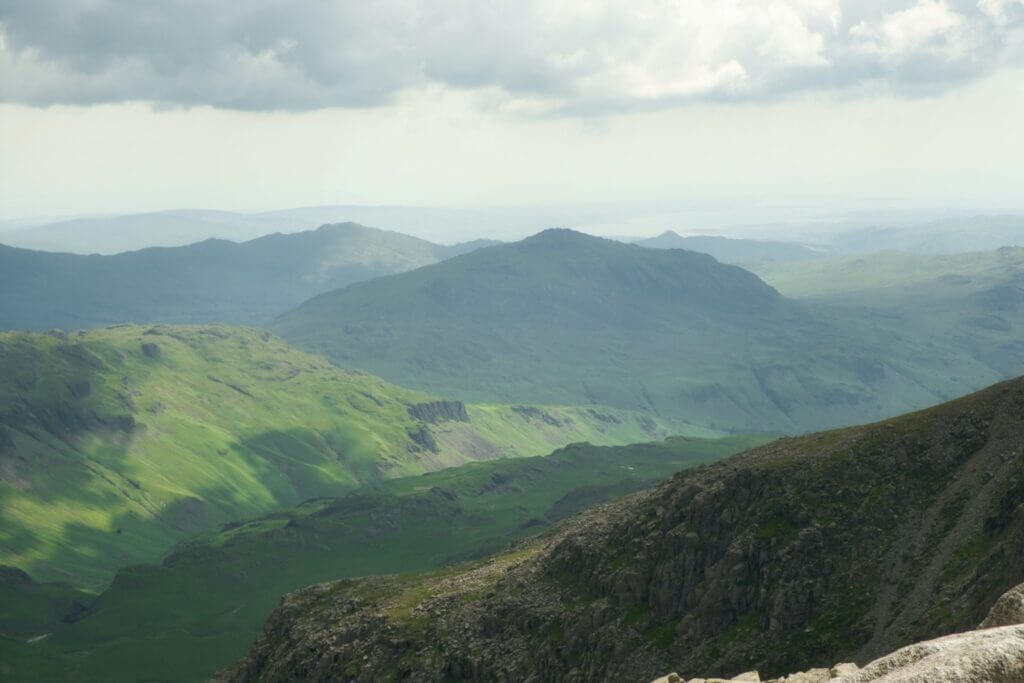 If you found yourself researching "what is the highest mountain range in England," you are probably a hiking enthusiast. At this point, you may want a longer route that will offer you the best of Scafell Pike. In this case, you should start from Langdale.
You may drive up to the Old Dungeon Ghyll Hotel and leave your car there, starting your hike from that point. You will have an 18 km distance to cover (12 miles) and a total ascent of 1,400 m from sea level. The time it takes to finish the climb depends on your pace, but usually, it takes somewhere around 8 hours.
The path is clad with grassy hillsides, steep rocky grounds, bogs, and the occasional plains where you are fully exposed. The path begins rather steeply from the Stool End Farm (your starting point). After that, it gets steadier as you go higher. Follow the rocky path to Bow Fell to make your way top to the Hanging Knotts and Esk Pike. If you reach Bow Fell on a clear day, you will get a great view of the Eskdale Valley summit.
The Bottom Line
Climbing Scafell Pike may have different difficulty levels, depending on what your starting point is. Choose the route that works best for you, and remember to be prepared. If you've never hiked before, you should get a guide to take you through. Once you've finished climbing the highest mountain in England, you will experience a whole new level of satisfaction.