Overview of Scafell Pike
Scafell Pike is the highest mountain in England (257th highest peak in the British Isles). It offers breathtaking views on the Lake District, one of the most beautiful national parks in the country.
The peak looks smaller than its neighbouring Sca Fell but is actually 50ft above it. An extensive boulder field composed of shattered rocks covers the summit, formed through weathering and frost action, and providing a tough surface.
It is regarded as part of the National Three Peaks Challenge, which is an event that involves climbing 3 summits in 24h (Scafell Pike, Ben Navis and Snowdon).
Lord Leconfield gifted Scafell Pike to the National Trust in 1919 as a war memorial.
Samuel Coleridge
Samuel Coleridge was an English Poet (end of 18th and beginning of the 19th century). He completed the first recorded ascent of Scafell Pike at the start of the 19th century. In 1802, he wrote a letter from the summit and his climb was soon followed after by the poet Dorothy Wordsworth, and later on, her brother William.
While being underestimated for a long time, Scafell Pike, and the Lake District in general, became a source of inspiration for many Romantic artists and writers.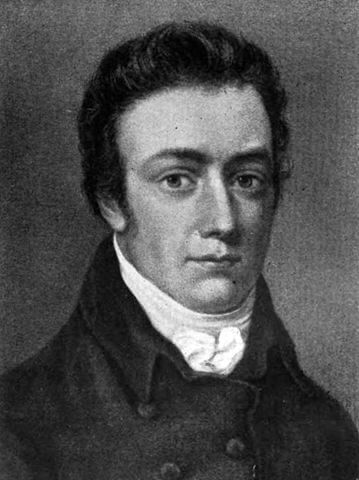 Routes to the summit
It exists 4 main routes to the summit.
Wasdale Head
Reaching the summit from Wasdale is the shortest route to the summit of Scafell Pike. It is the fastest and easiest one too, which makes it quite popular for beginners.
The walk starts at the parking of Lake Head. You will want to follow the Brown Tongue or Hollow Stone path on your way up and your way down.
The walk to the summit will take you approximately 2-3 hours (11km / 6.8mi).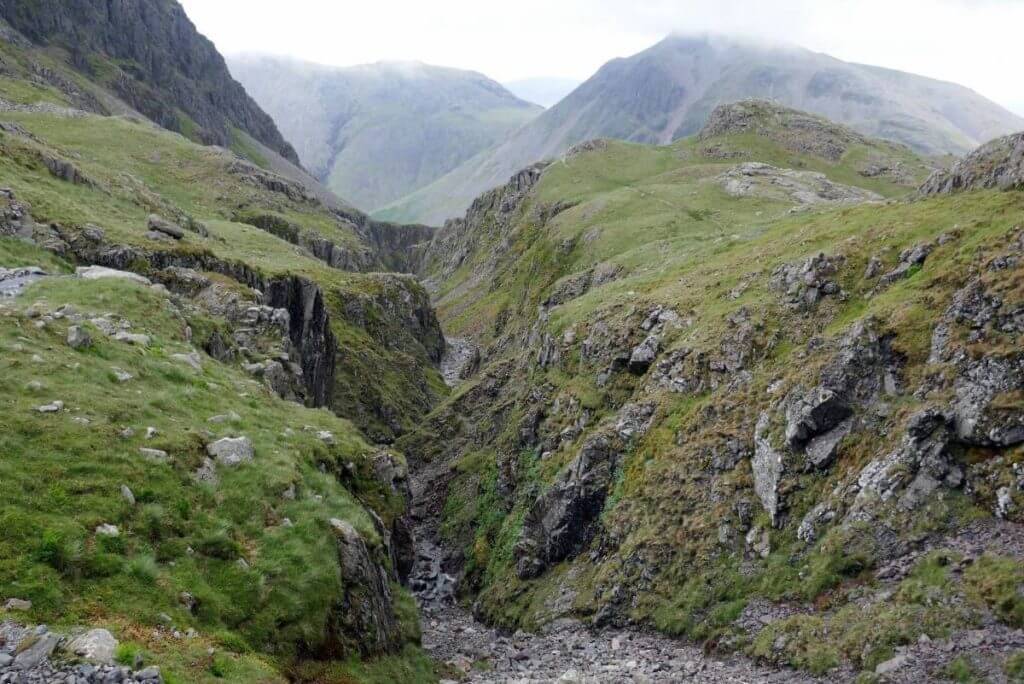 Borrowdale
The Seathwaite route, through the Borrowdale valley, is also considered as being an easy walk. It is a tiny bit more arduous than the previous one.
Leaving from Seathwaite Farm, going up the path to Stockley bridge and then to Sty Head before joining the Corridor path, it is the most popular route of all. It will offer the most panoramic view up to the summit. It is probably the best route!
The walk is approximately 15km (9.3mi) long. The path is a bit rockier but less steep and easier than other routes. The climb will take you 6 hours (depending on your fitness).
Seathwaite is one of the most humid places in England. You might face a bit of mist with limited visibility.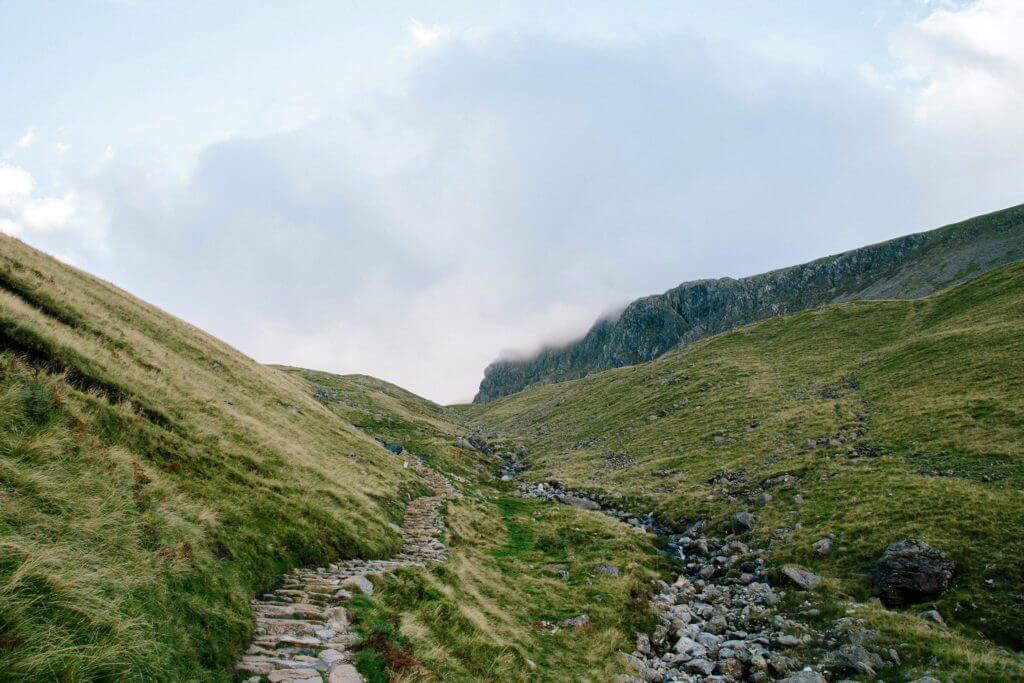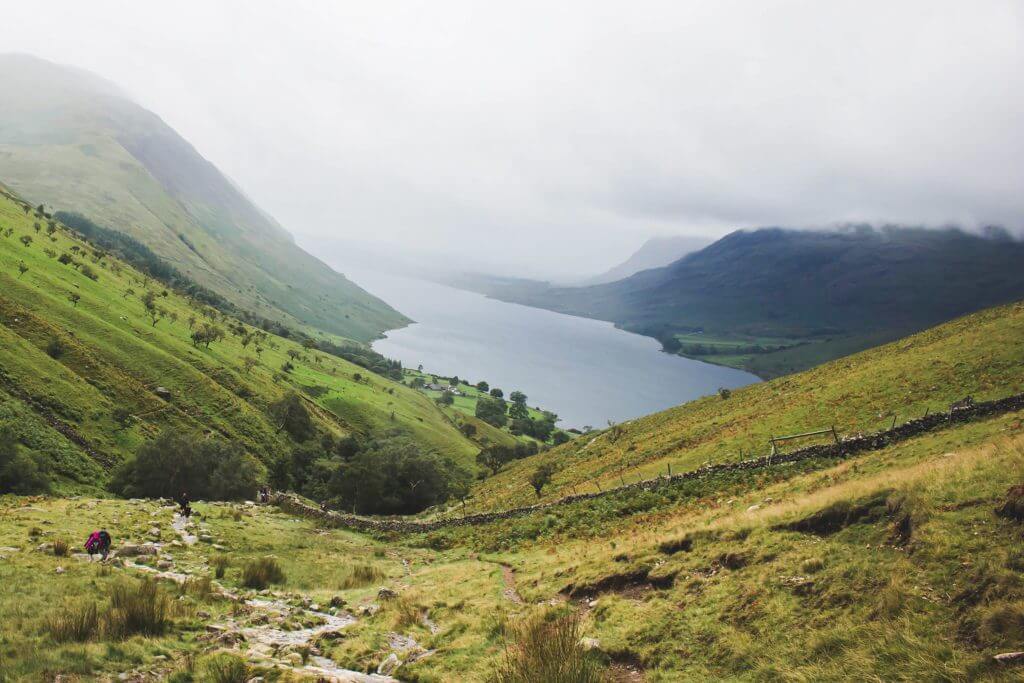 Great Langdale
Great Langdale is the longest and one of the most popular routes to Scafell Pike. It is approximately 22km (13.7mi) long.
You will start the ascend from the Old Dungeon Ghyll hotel. You will then go towards Mickledon before walking along the South-western part of Rosset Gill. At the summit, go towards Esk Hause, then go West through Calf Cove. You will then follow Crag and Broad Crag Tarn path to the main summit.
You will follow the same route to go down. It is easy to make a mistake so look at your compass! Some hikers like to add the climb of Sca Fell. It will add 5km (3.1mi) to your hike.
This route is a bit more challenging and should take you 6 to 8 hours. You will be able to enjoy breathtaking views on sunny days.
Eskdale
The Eskdale route is a 1-day hike of roughly 18km (11.2mi). It is the most difficult routes of all to Scafell Pike summit.
You will start at Brotherilkeld, cross river Esk and follow the path to the bridge over Scale Gill. 
L'itinéraire d'Eskdale est une randonnée d'une journée de 18 kilomètres (environ 7 heures), il est plus dur et plus aventureux que certaines des autres routes de Scafell Pike.
Commencez à Brotherilkeld, traversez la rivière Esk et suivez le sentier jusqu'au pont Scale. Continuez en dessous de Heron Crag jusqu'à l'entrée de Great Moss par Scar Lathing. De là, longez le bord de Great Moss sous Cam Spout Crag jusqu'à How Beck. Profitez de la beauté des nombreuses cascades enchanteresses de Cam Spout, et continuez vers Mickledore et jusqu'au sommet de Scafell Pike.
La vallée est préservée et, parce que la majorité des gens prennent Wasdale et Borrowdale, vous êtes sûr de profiter d'une paisible promenade en suivant ce chemin.
Typical weather on Scafell Pike
The weather on Scafell Pike is very often humid and cloudy. It is very often one of the biggest challenge for hikers.
For weather forecast, check Mountain Forecast.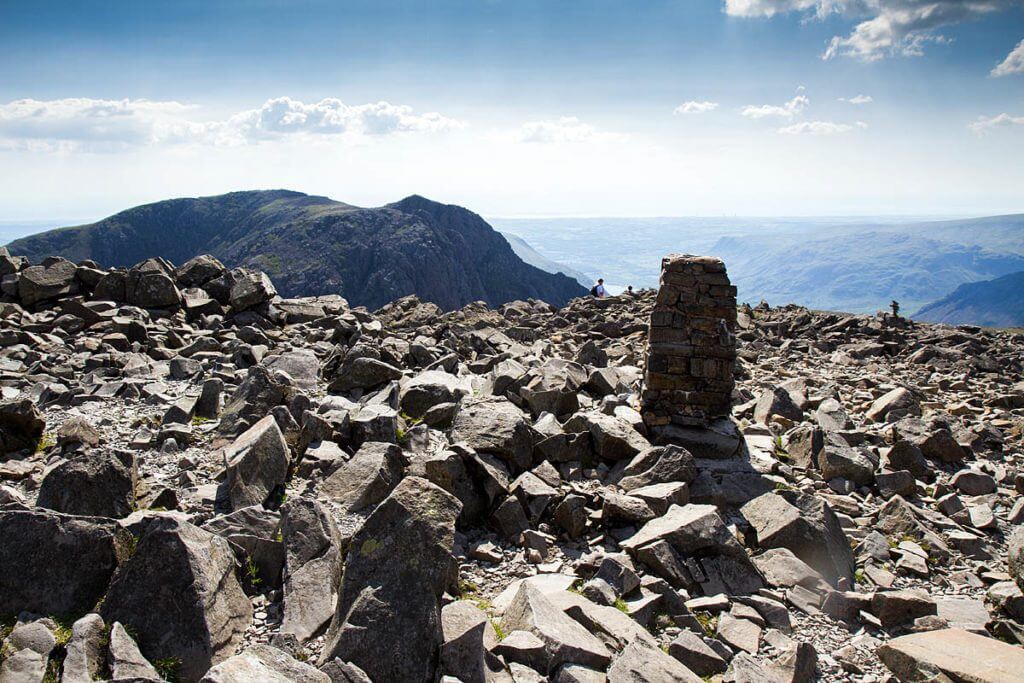 Frequently asked questions
How long is it to climb Scafell Pike?
It depends on the route you choose. You have 4 main ones that would take you anything between 2 to 7 hours. It will also depend on your general fitness level.
How high is Scafell Pike?
While Scafell Pike is the highest mountain in England (UK), it is not considered as being extremely high. It is 3,209ft / 978m high.
How hard is the climb?
Compare to other mountain ranges like the Alps or Himalayas, the climb is not technical. That said, the weather in mountain areas can change quickly and rescue is always a bit more complicated.
This will also depend on your level. It is a serious undertaking and should not be underestimated.
Where is Scafell Pike? / where is Scafell Pike in lake district?
Scafell Pike is located in the middle of Lake District, in North of England (United Kingdom).