These are the all-terrain tool of alpine climbing. Similar to the Petzel Quarks, the North Machines cover a wide range of terrain and can comfortably take you to most places in the mountains. Two years ago, I first tried the North Machines when climbing with my mate Chris in the Remarkables, New Zealand. After using them for a pitch or two of mixed climbing, I was sold.
I got a pair the day I arrived in Chamonix and used them as my only set of tools for the next 18 months in the Alps. As they were my only option, I got to see how they performed on many different parts of the mountain, from glacier approaches to mixed cragging and waterfall climbing to scrambling up icy north faces.
Thoughts:
The ability to plunge, arrest, dagger, dig, scrape, torque, and climb makes them perfect for harder alpine and ice routes, where you usually have to cover a lot of mountains and still be able to climb through steep cruxes.
The design is two different styles put together. If you compare the North Machine with the Tech Machine (pictured below), you can see that the shaft and head curvature are almost identical. The grip, although curved, looks much more like a classic axe handle. This combination, along with the big adze and hammer, creates a versatile alpine tool.
Because they are designed for steep North face routes, they do lose some qualities suited to classic mountaineering. But for that compromise, you get a tool that performs well on most moderate ice and mixed ground without needing to go full tech.
To complete my European quiver, I have since added the Tech Machines for winter climbing and the Petzel Gullys for snow plods and skimo, but because of its versatility, I'll still reach for the North Machines most times I head out.
Specifications:
500g (Carbon)
50cm
Semi-technical curvature
Replaceable technical and non-technical picks and other accessories
Hammer and shovel
T-rated shaft and picks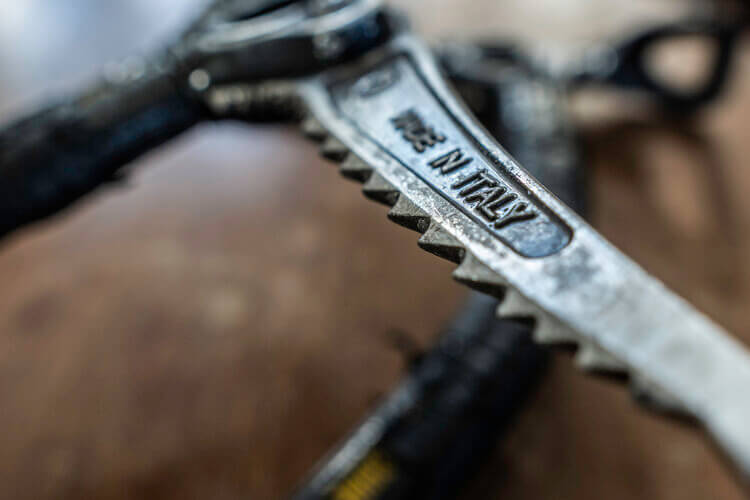 Grivel North Machines – the Good:
They feel good – the curvature, weight, and size give them great shape for daggering and a balanced swing.
Solid build – they come with steel picks and reliable design to withstand years of alpine abuse. Always comfortable torquing on Grivel's hot-forged blades.
Versatility – Lightweight and straight enough to use as a walking axe but more at home on steeper terrain. I found them techy enough to use on WI4 and M5. But if you want proof they can climb harder, you should look at Mario Sertori's Alpine Ice guidebook. A lot of hard ice and mixed routes were climbed with these!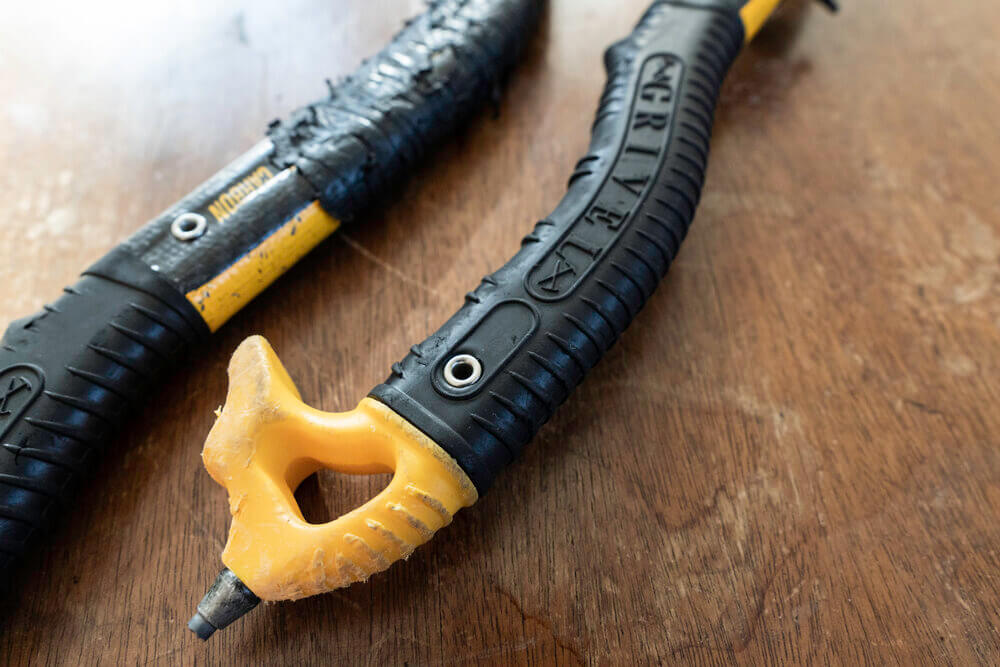 Grivel North Machines – the Bad:
No Second Grip – No trig rest or second handgrip comes with them. There is a tiny lip above the handle. I keep my shafts wrapped for added grip, but when swapping axes or adjusting grips, I want a trig rest. I don't see a real downside to having one on these axes. If compared to Quarks, this is an obvious must-have for such a versatile axe. You can buy a trigger separately.
Spikey Walk Grip – this is only a minor problem, but it gets annoying. The ice picks are designed for burly climbing and have teeth that run along the top. These make the axe uncomfortable in a walk grip or plunging and will wear down gloves. Maybe Grivel's alpine pick would alleviate this.
Poor Spike – Another walking inconvenience; the spike is very average. A better spike would make a difference when pushing up rocks or ice steps.
So Then…
If you are looking for an all-rounder geared towards alpine routes and classic ice climbs, have a look at the North Machines.
Price: Approx 400 Euros for the carbons.