Patrick Meier is a photographer based in Switzerland. He has specialised in mountain photography for some years. Patrick Meier has always been immersed in the mountain and mountaineering environment. Discovering photography a long time ago, Patrick Meier has then worked on projects with various firms and brands as well as being a Getty Images photographer. Through the interview, you will get to know more about Patrick Meier, a skilled mountain photographer in love with nature.
Patrick Meier, where do you come from?
My beginnings are humble. I was lucky enough to have grown up amidst the Swiss Alps, next to a beautiful lake.
The mountains and all of nature's beauty were quite literally at my doorstep. As a young boy, I spent most of my days in nearby mountains and forests. The mountains will always be one of my first loves. However, it has taken the hustle and bustle of the concrete jungle in London for me to rediscover this love. I would often travel back to Switzerland from London and go on multi-day hikes and return to the UK with beautiful pictures and a clearer mind. Finally, having made a permanent move back to Switzerland, I found my happy place – mountain photography.
What do you do today?
Nowadays, I mainly focus on mountain photography. It's not just taking pictures of stunning landscapes and wildlife but also being out there in the solitude of the wilderness.
The silence only breaks for the wind in the grass, an eagle's whistle, the clanging of cowbells in a distant valley and the odd rock or ice falling in the distance. Nature, in its purest form, its elements and its unpredictability. The pictures are a bonus. I listen to nature and take my instructions as it orders.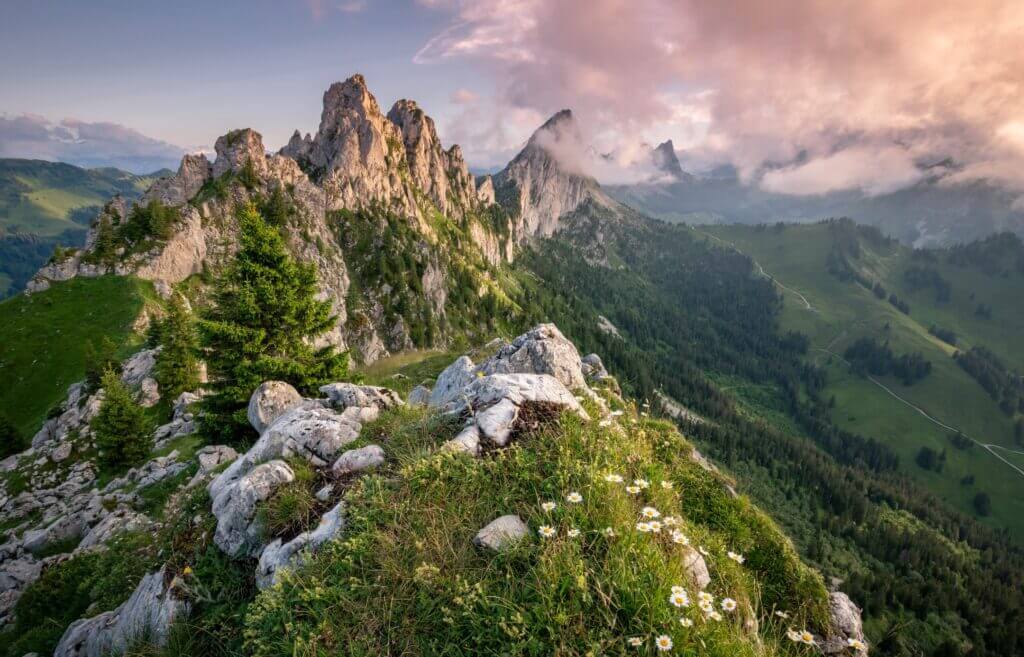 How did you discover photography?
"Once you get into photography, you will never see anything in the same way again." these were the words of my dad's best friend, who ignited the photography spark in me a long time ago.
At the time, I had no idea how true these words were. He had an unbelievable collection of analogue film cameras and vast knowledge of light behaviour and composition. He was doing my head in all the time but, at the same time, had triggered something in me. In the late 2000s, I bought my first DSLR camera. What had started as an inquisitive hobby soon turned out to be a rewarding passion in my life. Today, I often catch myself thinking in f-numbers while composing images in my head when I see picturesque scenery.
Where does your passion for the mountains come from?
I'm pretty sure that a picture of my granddad pops up when searching for "mountain goat". He was a long-standing member of the Swiss Alpine Club (SAC) and would take me on adventurous hikes, spend nights in mountain cabins and teach me how to survive in the alpine territory. Furthermore, luckily (in hindsight), my dad's dislike of planes meant we spent most of our holidays in the Swiss Alps – exploring and discovering.
What is your best moment/ memory related to being in the mountains?
I was seven years old when my dad took me on a strenuous but incredibly rewarding glacier crossing, equipped with my first proper ice pick, a rope and very stylish (or not!) 80s clothing!
There was a lot of snow on the glacier, and the crossing was strenuous and time-consuming as I kept sinking into the snow all the way up to my waist with every step. Finally, having completed the crossing, we came across a large herd of ibexes blocking the trail. Eventually, we ended up scrambling around these majestic creatures very carefully. After nearly eight hours, we finally made it back to the village, exhausted but happy. To this day, the memory of this achievement fills me with pride!
What is your environment/ world? Can you describe what inspires you?
I am lucky enough to be able to live in a beautiful part of the world still, surrounded by the alps, lakes and mountains.
I am reminded of the majesty of mountains with each waking hour and every time I look out of my window. This is my inspiration.
What is the best photography project you worked on? Why?
IIt'smore of an ongoing evolution as a photographer rather than a project as such. Mountain photography as a passion has had a major impact on my life. IIt'sthe perfect combination of being active and creative. All the planning and preparation that goes into my pictures is yet another element that excites me – especially when you know at the end of it all, the possibilities are endless.
There is nothing that relaxes my mind and recharges my batteries more than exploring remote places, spending nights in my bivouac bag under a blanket of stars and getting away from all the madness in our daily lives. Returning back home with striking images and seeing the emotions in the faces of my audience when showcasing my pictures is the icing on top.
What does a typical week look like for you?
When people see my pictures, they don't often realise the effort that goes into my photography. I plan pictures well in advance and try to leave as little as possible to luck.
It can take years for the conditions to be right to get my desired shot, and it takes hours and hours of planning and preparation. I constantly make notes of potential places and locations; I scan Google Earth; use hiking and weather forecast apps; programs that show me where the sun, moon and milky way will be at certain times on certain days and how the light will hit the landscape around me.
Often, I also call local authorities and guides to make sure the current conditions are safe enough. And then, when the window of opportunity presents itself, I grab my gear and head out there! All this is then manifested into the final picture you see, which makes the hassle of carrying all my outdoor and photography equipment up to high altitudes and finding a suitable spot to crash for the night well worth it.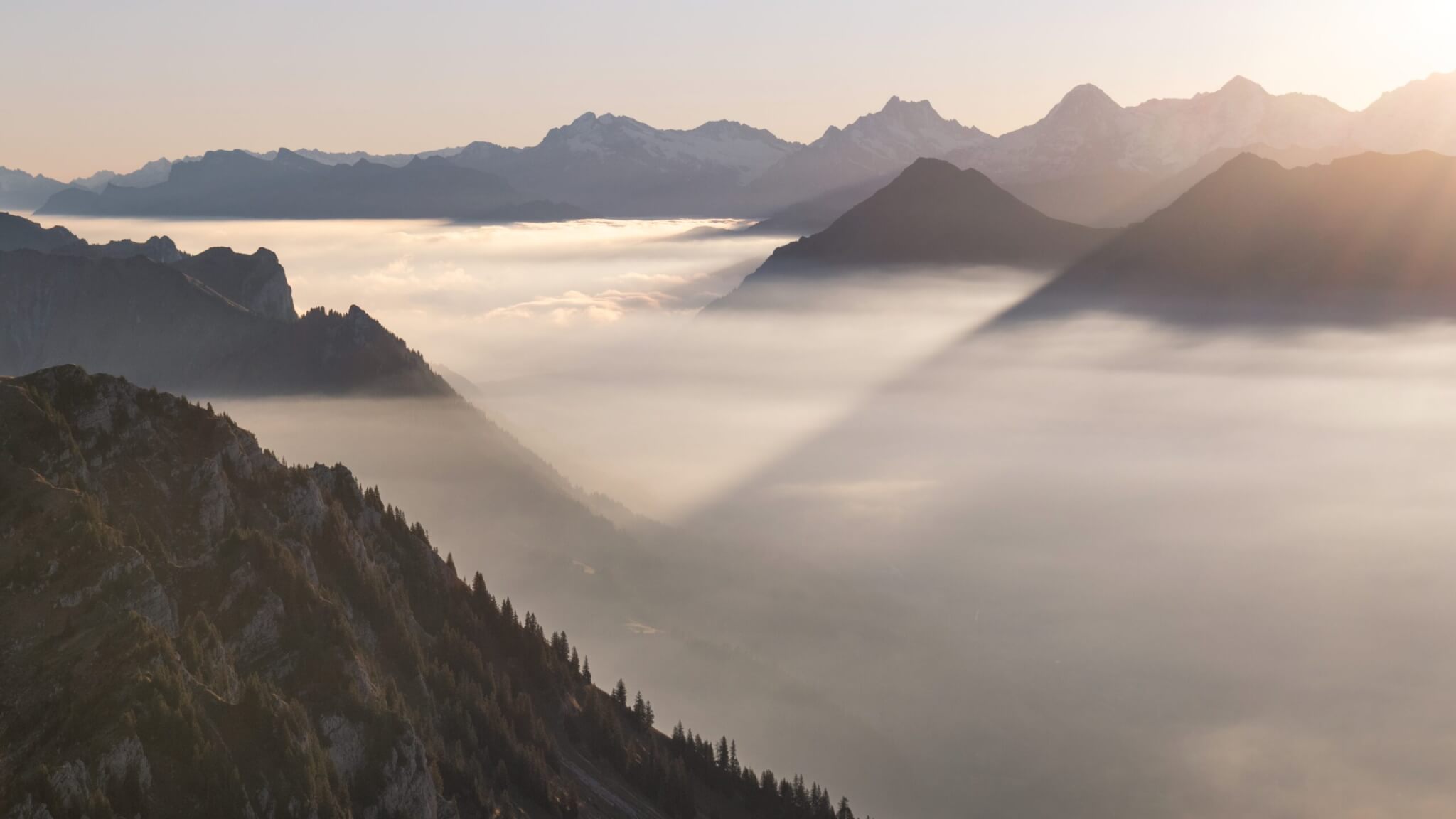 Do you have any mentor(s)? Who? Why?
I have acquaintances/partners in crime that encourage me to go on expeditions and adventures. Other mountain goats, fellow photographers, who I also teach, mountain guides and the likes.
There are a lot of incredible photographers that I look up to. I particularly like the landscape photographer Nigel DDanson'sor Chris BBurkard'sstyle and persona – truly amazing, even though they are not in the same field as me. I also get inspiration from websites and Instagram pages like endorfeen.
Great talents who motivate me to get out there!
If you have worked with brands, which ones?
I have the chance to partner with different brands and platforms such as Getty Images, American Express, UBS, Bullfrog…
Anything else you want o share?
A special moment? Person? A turning point in your life? Next project? All of this is possible thanks to my beautiful, supporting and encouraging wife.
It is her that reminds me to get out there on an adventure again and again. And it is also her, as well as the kids, that I very much look forward to returning home to. Without her as an anchor, I would be lost out there.