From a fairly flat country, Luke travelled to Asia to become an accomplished and driven Himalayan Mountaineer. Australian born and raised, Luke has spent most of his life away from mountains.
He will not only strike you and make you dream with his Himalayan tales; he will also contaminate you with his energy and positive attitude towards life. He not only climbs for the experience but also in memory of one of his friends who passed away.
Follow Luke on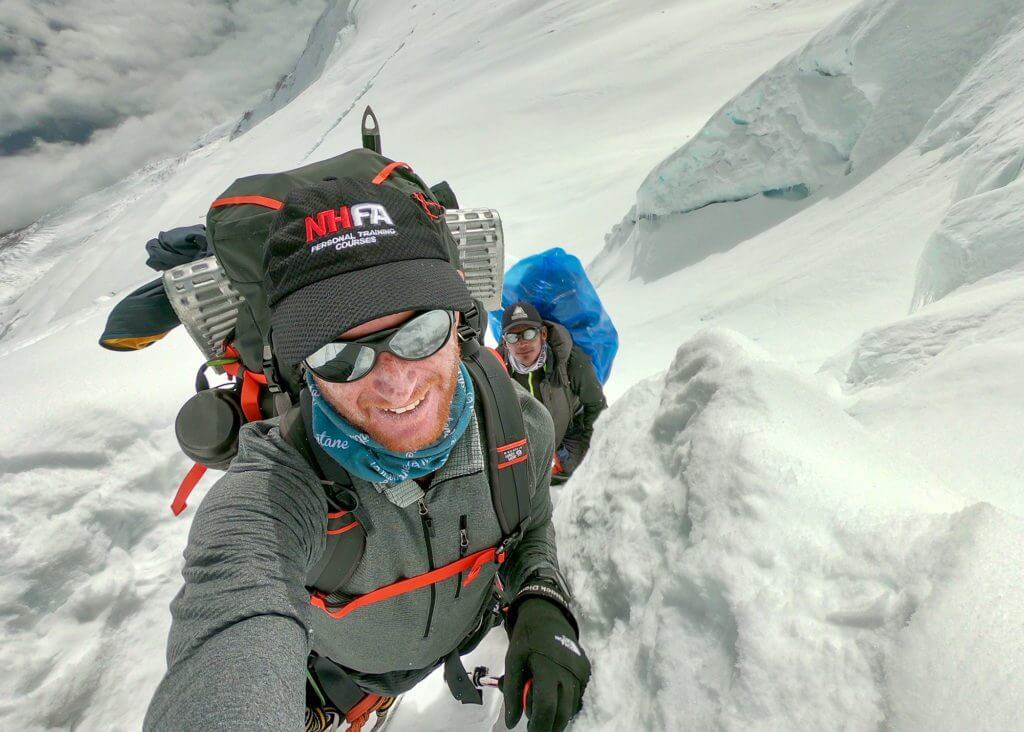 It all started with a dream
Can you briefly tell us about your background?
I come from Australia, a fairly flat country. I have always been a very outdoorsy person. As far as I can remember, the Himalayas have always been on my bucket list. I didn't have anything specific in mind. I wanted to climb a mountain. The Himalayas have the biggest mountains, so I wanted to climb one of the summits there.
A few years ago, one of my friends and mentor died from cancer. It gave me extra motivation. I wasn't going to do this for me, but also for him.
The dream became reality
How did you become a Himalayan mountaineer and climber?
In 2016, I decided to go to Nepal on my own. I went there with an organisation, World Expeditions. The objective was Island Peak (6,189m), after a trek to the Everest base camp.
I had an Australian guide who became a good friend of mine.
While Island Peak is not the highest mountains in the Himalayas nor the most technical one, I had a couple of scary experiences! At some point, we were passing crevasses walking on snow bridges. Normally, they are quite solid. The sherpa I was with went first. I quickly followed and fell through. I managed to stop the fall with my arms. We were roped up, so no specific danger, but it really scared me as a beginner.
Then, on the same ascent, we were climbing a long wall. I heard a "ping" coming from above me. Not the right reflex but I looked up and got very lucky on that one! One of the climber before us had dropped a carabiner. It felt, hit the rock, and missed my face by a few centimetres. It would have been like a bullet hitting my face!
Were you attracted by the height?
At the time, I didn't really care about the height. I just wanted to climb a mountain. It never really occurred to me that I could become a "Himalayan mountaineer". But this first climb made me want to go for one of the 8,000'ers.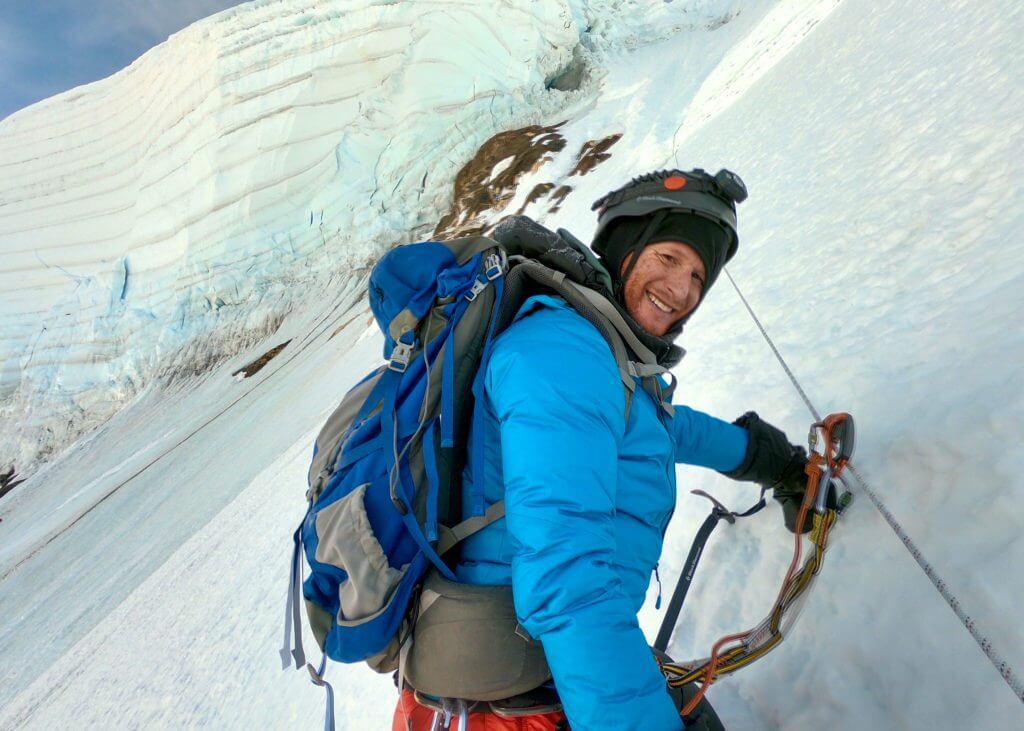 What did you do after that first experience?
After my first Himalayan experience, I realised that I needed to improve and learn. I decided to go to New Zealand (which is quite close to Australia). I went there with a group of 4, including our guide, a French mountaineer called Jean-Baptiste.
There, we climbed a few Peaks. The objective was really to perfect my technique and develop my skillset.
The reality became a mission
When did you go back to Nepal?
In 2018, I went back to Nepal to climb Ama Dablam – 6,812 metres (22,349ft).
2 friends who were supposed to come with me, cancelled a few weeks before leaving. Then, I broke a toe. I thought that the universe was telling me "don't go".
Still, I left for Nepal. I was climbing as an independent climber (not in a group). It was a great experience. I could go at my own pace.
I was quite lucky as the team was really amazing. My guides were extremely experienced – they were part of the rope fixing team on Ama Dablam and Mount Everest. They had done countless successful climbs.
Did you do anything after climbing Ama Dablam?
Once you start climbing, it becomes an emotional drug. Beyond the physical aspect (which is hard), the entire experience is full of emotions.
In 2019, as a tribute to my good friend who had died from cancer, I decided to organise the "Booka ballsy expedition". I climbed Manaslu (8,156m), and I raised funds for the Queensland Cancer Council.
Before leaving Australia, I had packed dozens of balls (soccer, rugby… balls) to donate to local kids on my way to Manaslu. It was one of the hardest things I did!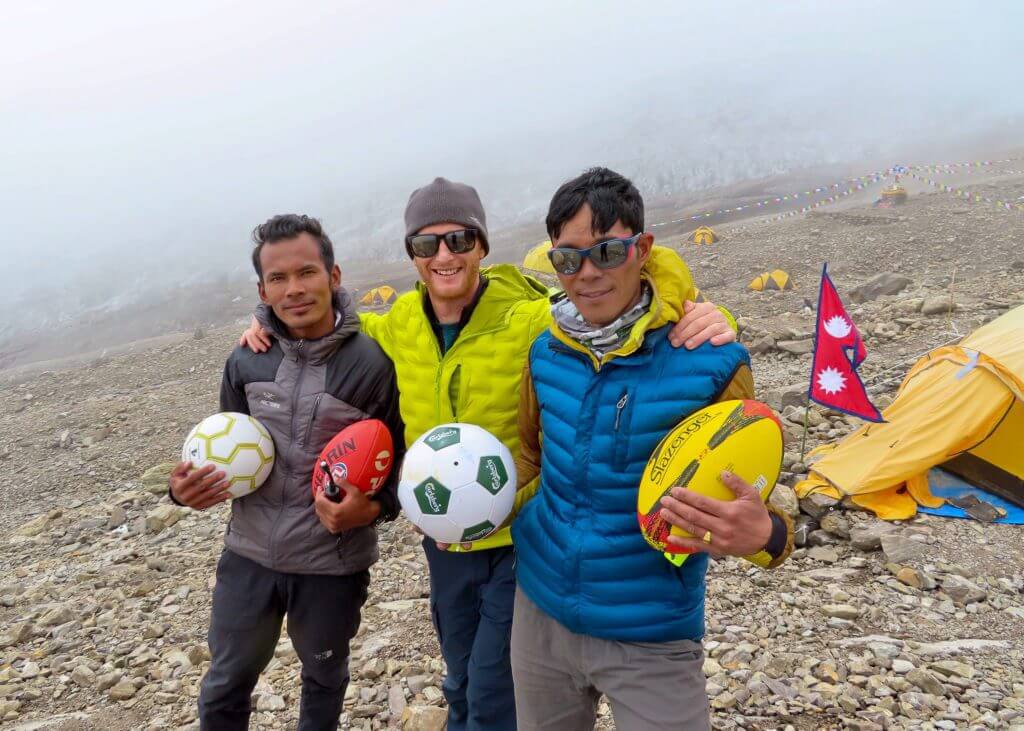 It requires some planning to be a Himalayan mountaineer
How do you train if you want to be a Himalayan mountaineer?
I am a gym manager. I manage a team of 200+ personal trainers for a chain of gyms where I live. Thanks to my job, I have easy access to the right facilities.
Therefore, the physical part is easy for me. The more difficult side is training for the mountains.
I found a spot near where I live where I can have +/- 600m of elevation. I go there to run, usually with a weight vest and a bag full of water bottles.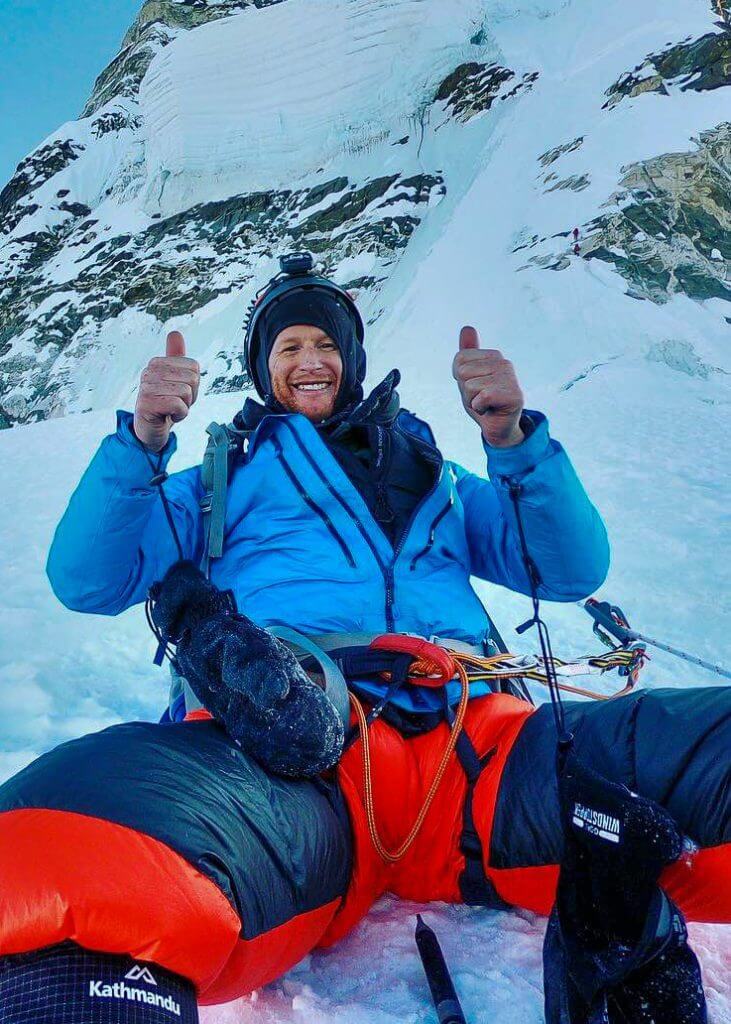 How do you finance your expeditions as a Himalayan mountaineer?
I've had sponsorship from the National Health Fitness Activity, but it's mostly my own money.
What's next for you?
I am now targeting Mount Everest. If not in 2021, it will be in 2022. Then, I am very keen on Denali, which is the highest mountain in North America.
After all of this, I would also love to discover the European mountains!
Would you have any documentary you would recommend?
To get some inspiration, I would recommend the documentary "Valley Uprising", which is on the climbing community in Yosemite, California.