Finn Kristoffer Hovem
Finn Kristoffer Hovem is a driven adventure skier.
While he did not come from a family that pushed him towards the mountains or grew up in a mountainous area, even though Norwegian, Finn is passionate about skiing and mountaineering in its purest form.
He will strike you with his humility. He belongs to this small group of Norwegian freeskiers, connecting with the mountains, opening new routes and pushing the discipline's boundaries.
Follow Finn Kristoffer Hovem on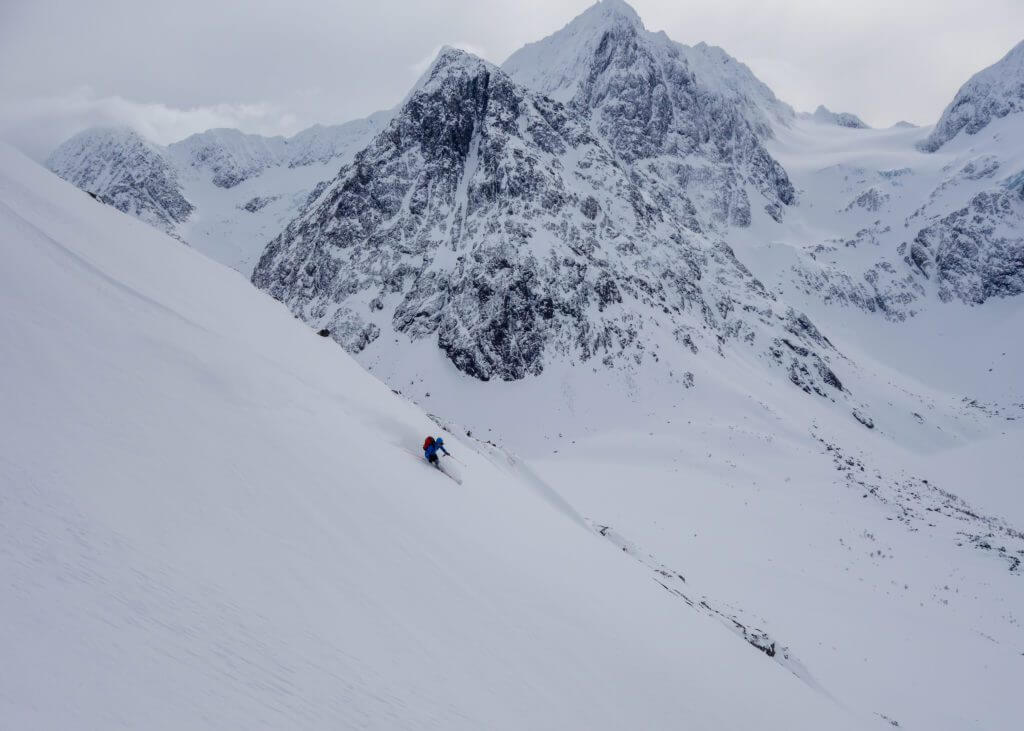 Not such a straight line to become an adventure skier for a Norwegian
Can you give us a quick introduction?
I was born in Norway. My father is Norwegian, but my mother is actually from the US, from Colorado. I started cross-country skiing with my family. I wasn't skiing much when I was younger.
When I turned 8, my family moved to Texas. My Dad was working for an oil company, and he had found a job there, so the entire family moved with him. As you can imagine, this meant no mountains nearby, so no skiing whatsoever except for cross-country skiing during the holidays. It's also around that time that I understood that city life wasn't for me. I didn't like the whole "city" / "suburb" thing.
After a while, my father got another job in Azerbaijan when I was 17. Because of the lack of schools there, I finished high school in Switzerland. This was when my life as a skier began. I didn't know so much about ski-touring then, but I liked the idea of it, so I started telemark skiing right from the beginning. I was hooked immediately. I couldn't understand why everybody wasn't skiing as much as possible.
What did you do after high school?
When I finished high school, I went to University in Colorado. I was "studying" engineering, but really, I was skiing four days a week. My grades took a hit (smile). At the time, studying wasn't really for me, so I decided to drop out of Uni. I went to work for a ski shop and had a blast. I was working, but I had a lot of time to ski (I was still Telemark skiing).
After a couple of seasons in Colorado, I was missing Europe, so I moved back to Switzerland. I was backcountry skiing a bit when I was in Colorado. It's when I got back to the Alps that I started ski-touring more and more, even though I was still on the telemark gear.
When did you get back to Norway?
I hadn't got back to Norway for quite some time. One year, a Scottish friend called me and invited me to go on a trip with him… in Norway. We went to Lyngen together. It was snowing almost the whole time, so we didn't have the chance to ski a lot of the lines we were hoping too. We got pretty much stuck in a cabin. While we did not spend a lot of time outside, it was a revelation for me; I needed to live here if I was going to have the chance to ski these mountains in the right conditions.
In 2015, I moved to Tromsø and went back to university. I studied risk management, which I find fascinating, particularly in parallel to my passion for mountains and skiing.
That year, significant changes for me as I gave up my telemark obsession in exchange for carbon boots and the touring efficiency of tech bindings.
I played REM's losing my religion when I remounted my skis! (Laughs)
Did you ever compete in skiing?
I got interested in skimo racing, but I wasn't a very "competitive" person. For me, competitions were just a fun way to get in better shape for ski touring. I wasn't skiing to improve and win competitions; it was the other way around.
Equipment was becoming better and better, which allowed skiers (and me) to go to more technical and steeper terrains.
Did you follow any specific training to learn how to evolve and behave in the mountains?
When I finished my studies, I trained at the centre for avalanche research in Tromsø. Apart from this, nothing in particular. I started guiding part-time. Around the same time, I participated in the "Patrouille des glaciers" and went to New Zealand for their ski season – this was in 2018.
Instead of doing my Masters, I started ski guiding fulltime in the winter and going on my trips for the rest of the year. I spent the summer climbing in the Alps and Northern Norway. I went to Chile, in the fall, for a ski-touring trip. We did many multi-day ski traverses, exploring volcanoes with everything we needed in our 20kg backpacks.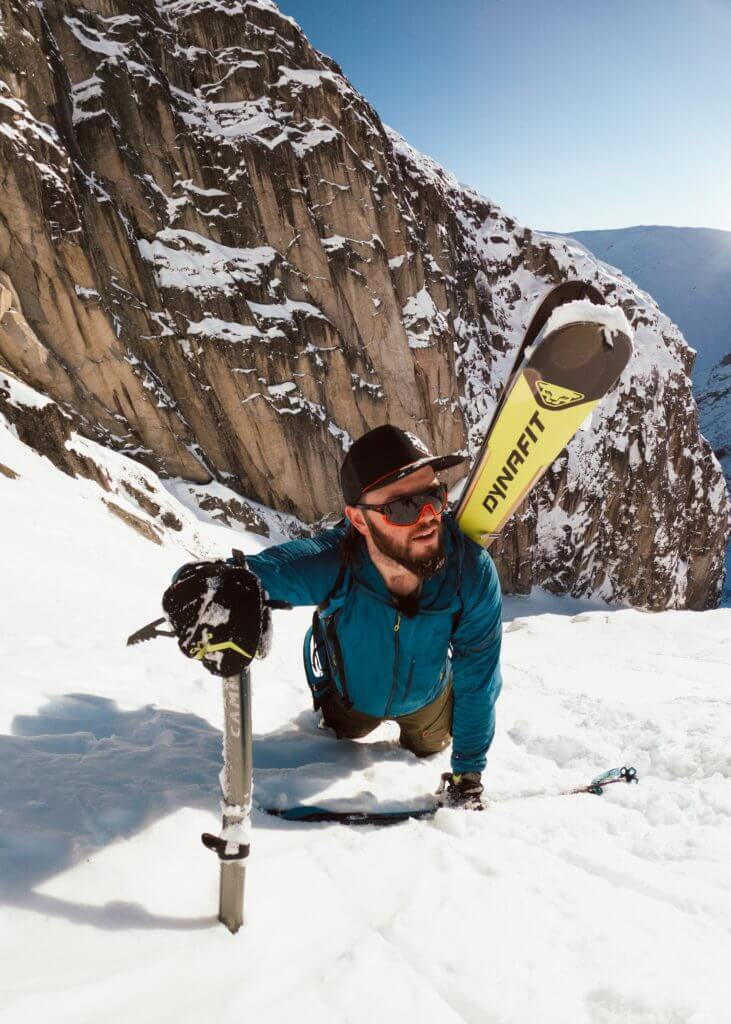 What it means to be an Adventure Skier
How would you define your style?
I would define myself as an adventure skier. I´ve always been inspired by freeriding as well as more technical steep skiing. My style is somewhere in between.
I love that sport/ activity because we ("human beings") do not dictate the rules; Nature does. It's not like other sports where rules are set/ created. Take tennis, for example; we invented the lines, we developed a scoring system etc. With freeskiing, Nature is the rule, and it always changes – you need to be humble and understanding. There is also its share of uncertainty.
Do you have some sort of objective?
My objective is to be in the mountains as much as I can – I like being out there! My goal is to build up experience in the mountains. The more I'm outside, the more I learn, and the more I understand the environment.
You learn about the environment for sure, and you also learn a lot about yourself: your physical AND mental capabilities. After a certain point, your body is not the limit. The limit is your mind.
The more I am in the mountains, the more it creates the perfect symbiosis.
Would you say you need to be a risk taker?
It's a matter of perspective. Most people see skiing steep lines or narrow couloirs as risky. I take my share of risk, but it is important to me not to be reckless. There is always uncertainty in everything we do, but the goal is also to minimise this. I always assess the avalanche danger, my physical shape, the weather, the line etc.
But the uncertainty is part of the adventure. We can't remove all the unknowns from our lives; it's just deciding which risks we want to embrace and what others we want to avoid.
We would imagine that your discipline is pretty niche. How is the community in Norway?
Indeed, there aren't as many people who are steep skiing in Norway as people who are cross-country skiing, but it's growing. There is a small community already in Norway.
Do you have you group of people you usually ski with?
Yes, but it also depends on the occasion. I'm pretty flexible in my style. You can only ski with people who share the same style, have the same equipment and use the same tactics. I'm happy to take my tiny lightweight skis and jump turn, take the freeride skis and ski fast, or just cruise some mellow slopes in beautiful places with beautiful people. 🙂
The question of skiing in a group vs alone also depends on the line. Sometimes, skiing with a group is more dangerous than being alone. When you ski in a group, you assume that the others will be able to rescue you if you have an accident. Now, what if you are in a very steep rocky couloir, where a fall would mean death? It's useless to have someone around to rescue you. This person would mean an additional risk of triggering an avalanche, a fall etc.
That said, don't get me wrong, I prefer to ski with other people (laugh)!
Do you have any sponsorship?
Yes, I'm currently supported by Dynafit and Camp.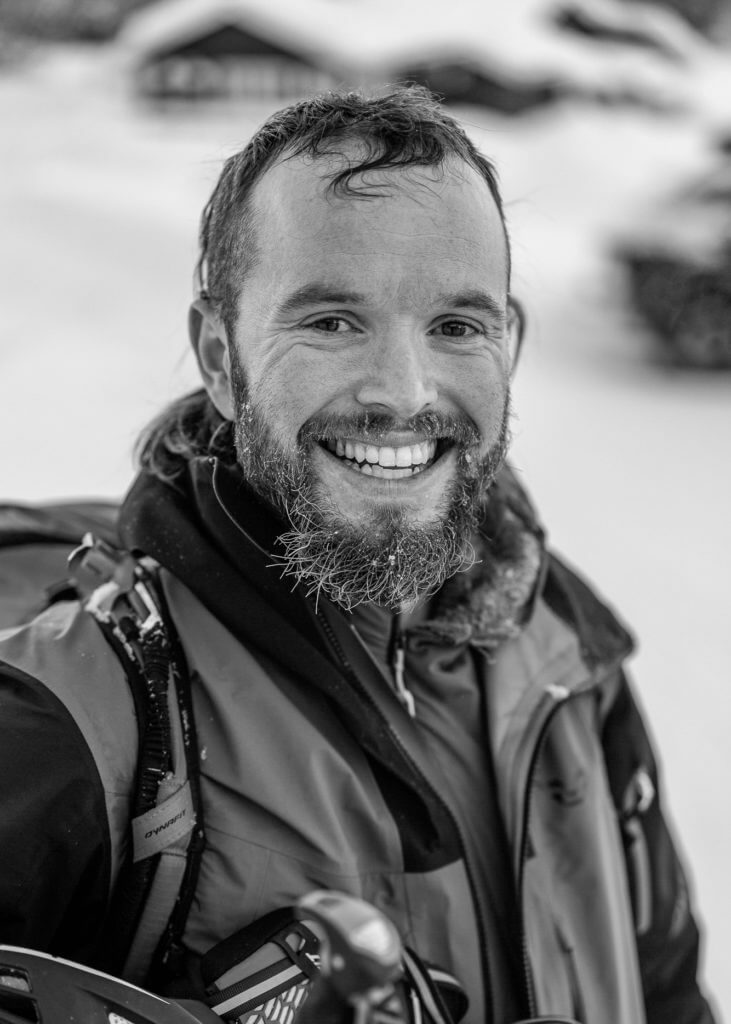 Adventure skiing, finding the right lines
As an adventure skier, you are "chasing" lines, how do you spot a new line?
Each time I see a mountain, I will start thinking about skiing it. It's a very subjective thing, but I will look at the aesthetic of the line. It's somewhat related to the technical difficulty and challenge, but not necessarily. A great line does not have to be extremely steep, for example.
Can you tell us about Felix Couloir?
I drove past the wall many, many, many times before. It's next to one of the most Instagrammed places in Norway, the mountain lake – Blåisvatnet. I was the 3rd one to ski Felix Couloir. I came after Andreas Fransson and Kilian Jornet!
When did you decide to ski it?
It had been a process. In 2017, I skied a couloir next to it. In 2018 I skied another, not too far from Felix couloir. The same year, we climbed 2/3 of the couloir and almost got killed by an avalanche. The conditions were not optimal, but we got lucky. We were roped up and tied to the wall/rock. If it had been 5 minutes earlier or later, we would have died – 100%.
And this avalanche did not dissuade you?
No, not at all. It made me realise that we did not read the signal correctly at the time. It was a lesson!
After the event, I took pictures of the face. I skied the approach, which might be a first descent (north-west face). After some time, I don't think anyone had spent more time on that mountain than me. (laugh). Choosing the right moment to go is never easy.
On the one hand, you are looking for good, soft snow, but this means a greater risk of avalanche. On the other hand, while harder snow means less risky, it's much less pleasant. Planning, visualising, and deciding when to go is 90 % of the adventure. I can't count the number of hours I´ve spent thinking about lines that I will probably never ski. But one day… who knows 🙂