Victor De Haro is the General Manager of WhiteCristal Skis, but he is first and foremost a French free-skiers whose love for the sport has driven his entire life.
Immersed in a free-ride culture very young, he also showed a strong entrepreneurial mindset when, in 2019, he took over the management of WhiteCristal Skis, one of the underground free-ride ski brands nested in the French Alps.
If you are wondering how you end up leading a ski brand, read up.
Follow Victor de Haro on
Victor de Haro's background as a free-skiers
Can you give us a quick introduction? What's your background as a skier?
I was born in Montélimar, France. I started skiing very young. Luckily, my uncle, who loved skiing, took me with him and showed me everything when I was around 12.
My second passion is photography. I'm particularly drawn by technique and film photography.
Fifteen years ago, my family moved around St Etienne. It was when I realised I didn't have an academic mindset. Let's put it this way – I wasn't the first in the class (laugh).
Around that time, I met Thomas, who has become one of my best friends. He skied and skis exceptionally well. His parents had a truck, so we were travelling in their van around the mountains, skiing a lot!
While in high school, I got interested in video. In parallel to high school, I decided to go and study video making at a school in Lyon, FR. It also meant I was skiing every weekend.
Around 2012, we formed "Crew-Ton". It's essentially a group of friends, free-riders, including Thomas, Luc, Margerie (former Freeride champion). We were all very close to that brand WhiteCristal and seeing Pilou as some sort of a mentor.
How did you get acquainted with WhiteCristal skis, which is now the brand you run?
In 2013, I met Pilou. He was the original creator of WhiteCristal Skis. He was much older than us and a true ski legend.
I was looking for some sponsorship, so the first thing I did was get in touch with Pilou. It didn't go as smoothly as I had planned (laugh). After insisting a bit, he said yes.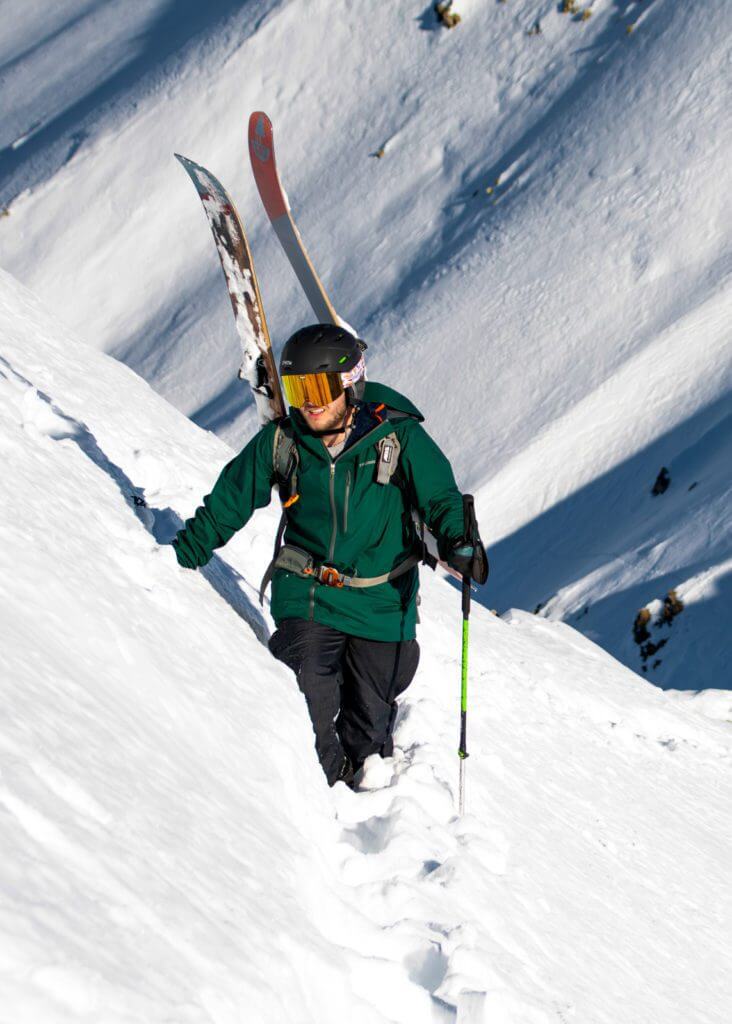 How his relationship with WhiteCristal evolved over time
How did you end up running the show?
In 2019, Pilou called me and said that he wanted to stop WhiteCristal and asked me if I was interested in taking over.
I said, yes!
What is the spirit of the brand?
Now, WhiteCristal is a freeride ski brand that is run by skiers for skiers. We don't carry many types of skis. We only have four, and we make custom ones too. It's relatively "niche" in some way; we target people who know what they want.
What's the story behind WhiteCristal?
It started when Pilou was skiing for another ski brand. He went for a project in Canada and had the idea to go down to Chili. When he arrived in Argentina, he had broken all the skis he had.
There, he met two brothers. Their father had a workshop where they could fix their skis. That is the period when he got the idea to make some.
Back in France, they started WhiteCristal. They were designing everything in France, and the skis were manufactured in Argentina, in Bariloche.
At some point, one of the two Argentinians wanted to stop making skis. Seizing the opportunity, the other one decided to come to Europe and continue the production. He created a new workshop in Sierra Nevada, in Spain.