Mathieu Tranchida is a skier, a climber, and a skilled action photographer. He has worked with some of the best skiers in Switzerland and one of the major outdoor brands of the moment, Arc'teryx.
He travels between Switzerland, where his family lives, and Canada.
A truly creative mind in the body of an athlete. He is thirsty for adventure and driven by capturing the "beautiful moment" in an urban or backcountry setup.
Follow Mathieu Tranchida on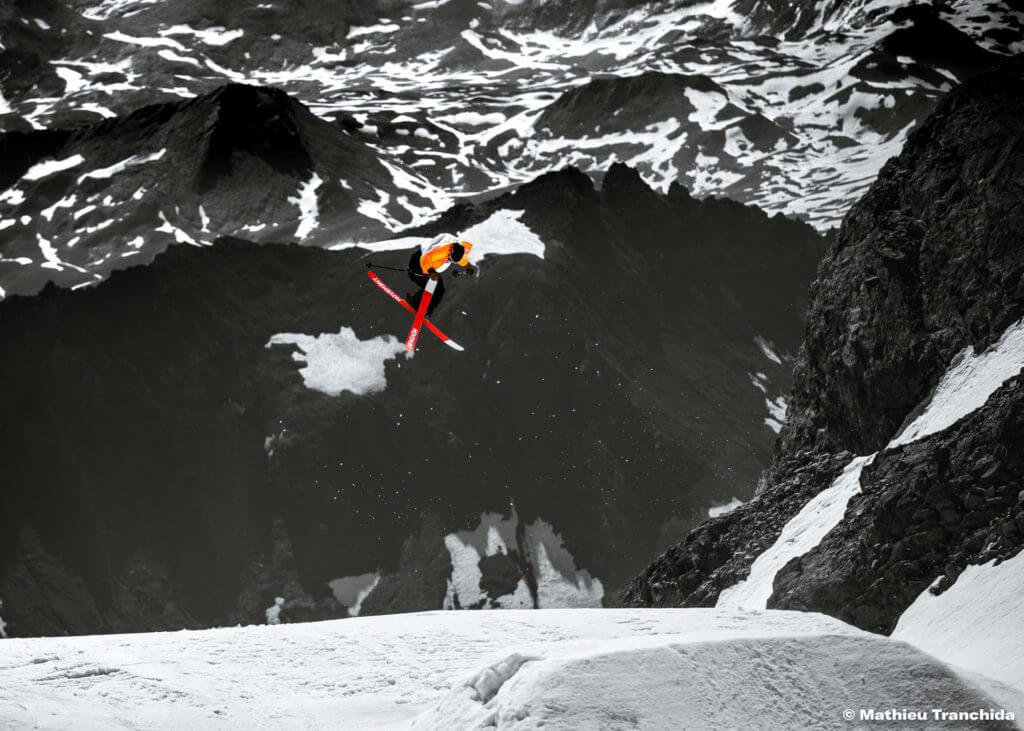 Mathieu Tranchida – from the plains to the mountains
Where do you come from?
I was born in France, near Paris, but my family now lives in Switzerland. I have been spending a lot of time in Canada over the past 4-5 years.
When I was younger, I wasn't spending so much time in the mountains first, because I didn't come from anywhere near the mountains, and secondly, because my parents were not necessarily mountains fanatics.
After I was born, my family first moved to Normandy. We were going to the mountains, but not so much; it was a bit far. Even if I wasn't skiing that much every year, I was a big fan.
Being in Normandy, why did you prefer the mountains vs. the sea?
Not sure why I always preferred the mountains. Probably because the sea in Normandy isn't appealing to surf and I was also a bit young. On the other hand, when you come to Switzerland and see the mountains, it's incredible. You see the summit, all you want to do is go up there.
When did you have the chance to really discover the mountains?
I rediscovered skiing when we moved to Switzerland when I was 14 years old.
Switzerland is amazing if you like spending time in the mountains. Even if I was too young to drive, I could go everywhere by train. Very quickly, you can find yourself in a resort and start skiing. It helps you to become more independent in some way.
That's when skiing became a passion for me, and I started to ski a lot.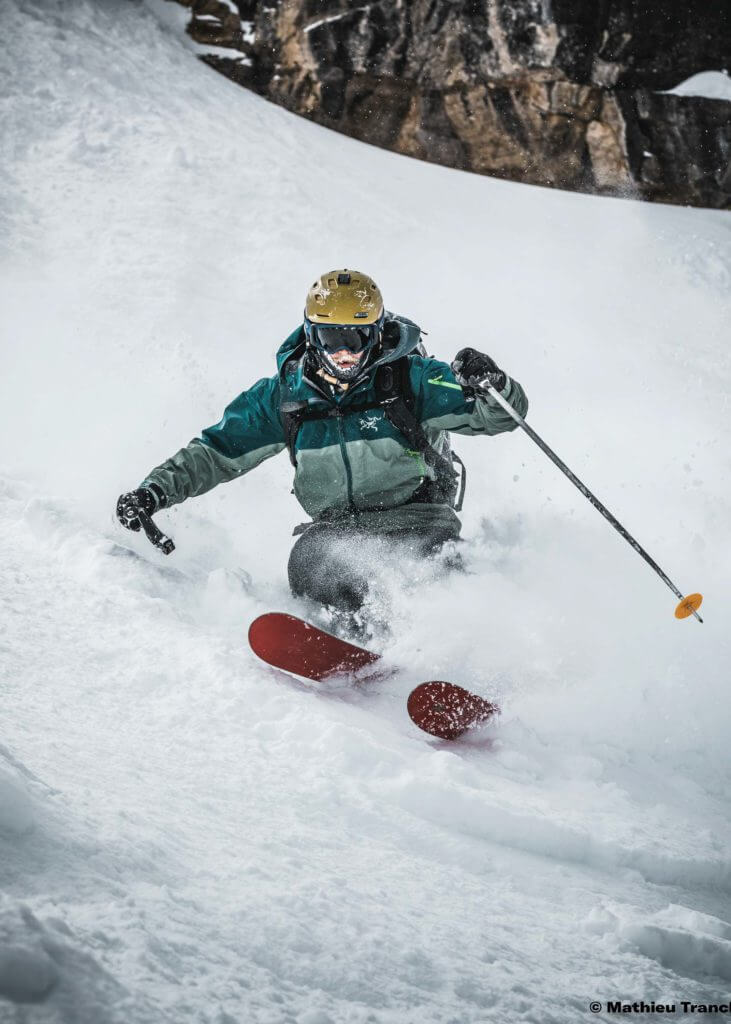 Discovering photography
What about photography? When did you start?
Until I turned 18, I didn't have any specific interest in photography. I watched many ski movies for sure, but I never thought I would go into that field.
For my 18th birthday, my parents offered me a week in a freestyle summer camp in Tignes called "GFS Camp". It was amazing, and it certainly was a life-changing experience.
That year, a lot of pros went to the camp, including Henrik Harlaut! With them came many photographers and filmmakers, and it really made me want to get into it. I saw the tricks they were doing and how they were planning everything to capture the best images. I found it amazing.
The year after, I went back to the camp. Unfortunately (or fortunately), I got injured after the third day. I'm saying "fortunately" because it gave me my first hands-on experience with photography.
PG was the director of the camp. He is the one who boosted me into making films and taking pictures. After my injury, he gave me his camera, I started taking shots, and I pretty much fell in love with the process at this point.
Did you continue taking pictures after this?
Yes, of course! After this, I bought my first camera, and a month later, I left for Canada to go to university. I joined the ski club in the first year, which allowed me to practice and take a LOT of pictures. Throughout that year, I shot around 50,000 images.
I learned very quickly, and shortly after, I managed to get to work on different projects with Arc'teryx and other brands in North America.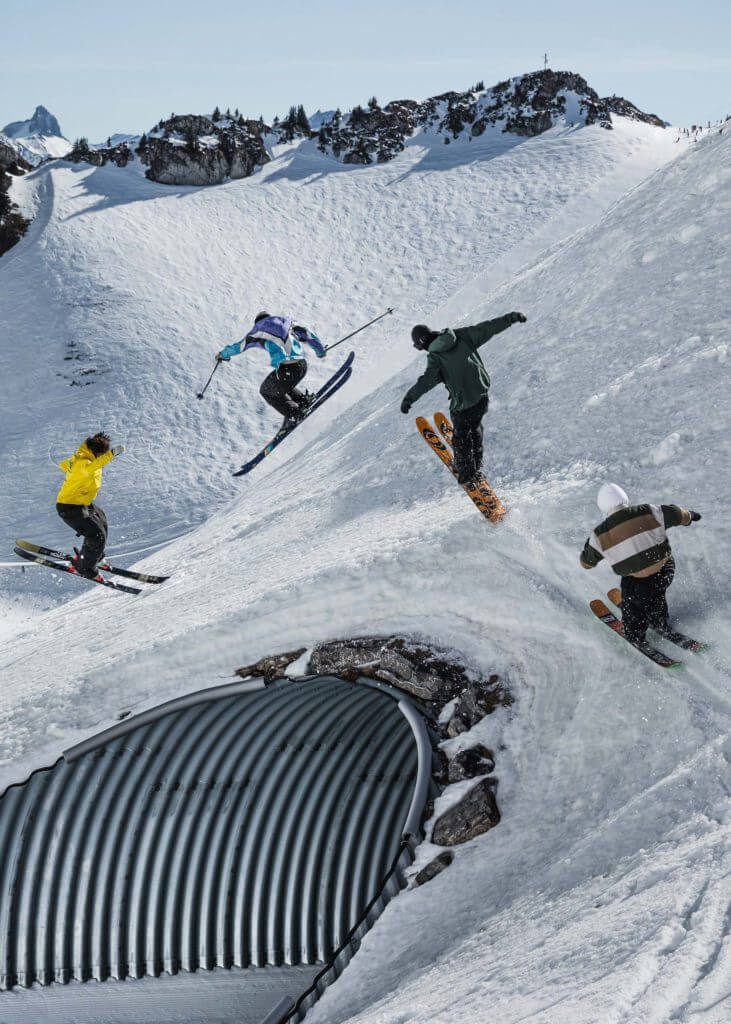 A passion that became a job/ activity
Were you/ are you only working in Canada?
No, I have also been doing some jobs in Europe lately. The most important was in 2018, I asked PG for a job at the camp, and he offered me an internship as a junior photographer. I found myself in the same room as Laurent de Martin and Remco Kayser, two professional Swiss freeskiers. We became good friends right away.
This encounter was a catalyst for my photography. It gave me the keys to be more professional and put me on the map.
You were in Montreal, not really so close to the mountains, can you tell us more about your time there?
In Canada, I got introduced to urban skiing. In Montreal, you don't have so many mountains, but you have a lot of snow every year. It's THE temple of urban skiing.
I couldn't realize the amount of work there is behind one scene. It's crazy! I participated in many urban shoots in the last three years – I learned a lot from it. It demands a different kind of creativity. Not only do you need to find the right spot for the skier, but it's super challenging for the photographer as well.
When did you work on your first major European projects?
In 2020, Laurent de Martin invited me as one of the photographers in his movie "From Switzerland with Love". I shot most of the urban part and helped with the setup of some of the backcountry spots.
Fantastic experience! On those types of projects, being a photographer is almost "secondary". Of course, the main reason you are there is to take pictures, but it's actually so much more. As I mentioned earlier, you need to find the right spots, prepare them, decide on the angles, choose the tricks, select the moment of the day, etc.
It can therefore take 2 or 3 days of work for 1 picture.
Do you practice any other outdoor activities?
I started climbing a few years ago. I love it too. My dream as a photographer would be to be able to mix skiing and climbing. There is an exciting feeling when you are attached to a fixed rope, taking pictures.
I did a project with Arc'teryx a couple of years ago. They sent me to take pictures of one of the top Canadian women climbers. I went there with 0 climbing experience. I saw the opportunity as a challenge and started learning then. Then, it became a second passion.