Gore-Tex is a waterproof, wind-resistant and breathable fabric and ideal for high-performance outdoor clothing including jackets, gloves and hiking boots. It was first invented in 1969 and within a few years was widely available. Since then, Gore-Tex has revolutionised climbing kits.
Gore-Tex is a thin membrane and is bonded to the inside of jackets, trousers and boots. The membrane prevents water from getting in when it is pouring with rain or in snowy conditions, but because it breathes, it allows water vapour- caused when the body is sweating- to pass through from inside to outside to evaporate.
How Gore-Tex was discovered
Gore-Tex membrane is made from expanded polytetrafluoroethylene fibre (which is abbreviated to ePTFE and also known as Teflon). In the late 1960s, the American engineer and scientist Bob Gore experimented with ePTFE. He was looking for ways in which it could be used for medical equipment, computers and even on spacesuits. He stretched PTFE under various conditions and discovered it made a strong, durable microporous material.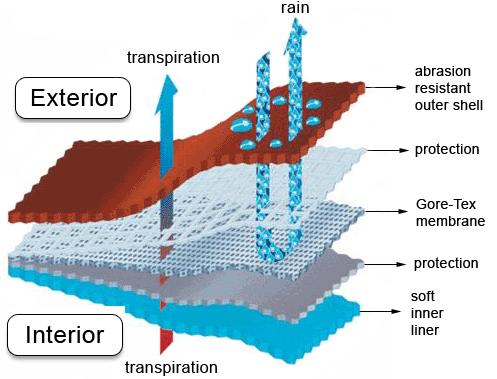 The material was microporous with more than nine million microscopic pores per square inch. The pores were 20,000 times smaller than a droplet of water, but 700 times larger than a molecule of water vapour. Bob Gore had discovered a way to make a material that would not let water in from the outside but would allow molecules of water vapour to escape from the inside to the outside. This certainly seemed like the perfect solution for outerwear.
Bob Gore's company – W.L Gore & Associates- started manufacturing products featuring the membrane in 1978 and they proved revolutionary. He had made the first waterproof, windproof and breathable materials to ever for outerwear. Bob Gore tried bonding the Gore-Tex membrane to various fabrics. He also sandwiched it between different fabrics of material giving flexibility for garments to have insulation or not.
Gore-Tex has been popular in the manufacture of outdoor clothing, footwear and accessories ever since. Research continues with the membrane today. It is available with both two-layer and three-layer compositions. Gore-Tex Active is super lightweight and flexible. It allows maximum movement – and still provides maximum protection. The Gore-Tex label on an item shows it has been tried, and tested and is top quality.
The pros/ cons of Gore-Tex
The pros
Gore-Tex is really waterproof
The membrane is bonded between layers of fabric. No water gets in because its microscopic pores are far too small to do so and this ensures that the body and feet remain dry- even in snowy conditions or when it is pouring with rain.
Your clothing has optimum breathability
Wearing a garment made with the special membrane can be really comfortable as the membrane allows vapours of sweat from the body to escape out into the atmosphere. For this to work perfectly, it is important to wear the correct clothes underneath. It is essential to wear natural fibres. In the summer, a sleeveless or short-sleeved cotton vest is good and during the winter, a light wool layer such as Merino wool will keep you comfortably warm.
Your clothing is windproof
Having windproof clothing is essential as the chill factor of the wind if you don't have a windproof jacket will make you feel cold very quickly as it chills your body inside the jacket. A jacket with Gore-Tex will maintain your body at a comfortable temperature.
Gore-Tex is lightweight and durable
Bonding the membrane to other materials makes great durable clothing. The chosen materials are lightweight and flexible too. These materials are ideal for many sports. Clothes with the membrane are compact and quickly rolled up to fit in a rucksack! A well-maintained Gore-Tex item will last for many years. Clothing performs well in the harshest conditions. Saltwater does not affect the membrane.
Damaged garments can be repaired by an approved repair centre, but act promptly though, to avoid further damage.
The Cons
Gore-tex can be expensive
High-performance clothing made with the special membrane is amongst the most expensive waterproof clothing on the market. The reason for this is that Gore-Tex is high performance and durability as well as being desirable. The price tag reflects these points!
Gore-Tex clothing/ footwear can degrade in time
The fabric is often treated with durable water repellents (DWR) . In time, these might not be as effective, so it is important to regularly maintain your Gore-Tex items.
Gore-Tex can stop being breathable
This problem usually occurs when the pores of the membrane have become clogged with dirt and sweat because sweat cannot escape through the membrane allowing you to stay dry. Careful cleaning can put this problem right.
Gore-Tex can have leaky seams
An outer garment that has the bonded membrane, usually has tape over its seams to ensure they stay waterproof. The tapes can rub off in time during normal wear and this can cause water to get in.
Maintain your Gore-Tex!
Ensure that your clothing continues to perform well, cy giving it some TLC. This can be tricky as the membrane is bonded to the inside of the fabric, or between two layers of fabric. It is essential to use the correct cleaning product as this will clean the membrane- without clogging the pores. If you want to re-waterproof the outside of the garment, use cleaning products with DWR (durable water repellents).
How to wash your Gore-Tex items
Carefully machine wash outer clothing on a short, warm wash. Only use a small amount of washing-up liquid. The washing liquid should contain no additives. These could affect the performance of the material. Don't use bleach or fabric softeners. If you want to re-waterproof your garment, once it is dry, use a cleaning product containing DWR.
Wash clothing correctly using this information from the company's website.
How to clean boots or shoes
Brush off any loose dirt using a sponge or brush.
Wash the outside of the boots in a bowl of lukewarm water with a small amount of washing-up liquid. Brush the material gently to get rid of the remaining dirt.
Do not put the footwear in the washing machine and do not use bleach.
For leather footwear, check the manufacturer's cleaning instructions first.
Impact on environment/ sustainability
The chemicals, used to make the membrane, can be a concern. The manufacturing company, W.L Gore & Associates states that –
'As an innovative and technology-driven company that has unique expertise in processing fluorinated materials, we at W. L. Gore & Associates think we might be qualified to shed some light on these questions.-
The invention of expanded PTFE (ePTFE) by Bob Gore in 1969 enabled us to make products that protect people from harsh weather conditions, using fluorine-based materials safely and responsibly. At the same time, we have also always been striving to protect the environment from unnecessary harm by continuously reducing the impact that GORE-TEX garments may have on our environment over their entire lifespan – also known as "environmental footprint. Our ambitious goal: eliminating PFCEC from all GORE-TEX consumer products"
While Gore-Tex remains king of the high-performance waterproof clothing, there are several other competitors on the market including Pertex, OutDry Extreme and Helly Tech and they are well worth considering before you buy, as you will be using your kit for many years to come…