Ordino Arcalís 2023: The FWT23 competition is resuming in the Pyrenees Mountains of Andorra. Athletes continued from where they stopped in Baqueira Beret last week and put on a memorable freeride performance in the second competition of FWT23.
On February 2, 2023, the competition was greeted by sunny weather and favourable conditions in Andorra today, with athletes demonstrating minimal exhaustion from last Sunday's event in Spain. The competition took place at the Pic De Les Planes face in Ordino Arcalís, which provided the ideal setting for participants in all categories to display their skills and perform big mountain turns.
Snowboard women at Ordino Arcalís 2023
The women's snowboarding competition occurred today, with all competitors executing smooth and precise runs. Katie Anderson from Canada earned her second consecutive win, increasing her lead in the overall standings and establishing herself as the top contender this season.
Anderson's run featured various elements, including fluid movements, a few grabs to incorporate freestyle elements, and a large mid-run air to demonstrate her freeride skills.
The reigning FWT22 World Champion, Tiphanie Perrotin from France, made a strong comeback after a disappointing first event, earning second place. Estelle Rizzolio, also from France, finished in third place to complete the podium.
My run was fun, although I did get a little lost, but I made it work. The conditions were kind of variable, but were pretty good overall. I really love Ordino Arcalís!

Katie Anderson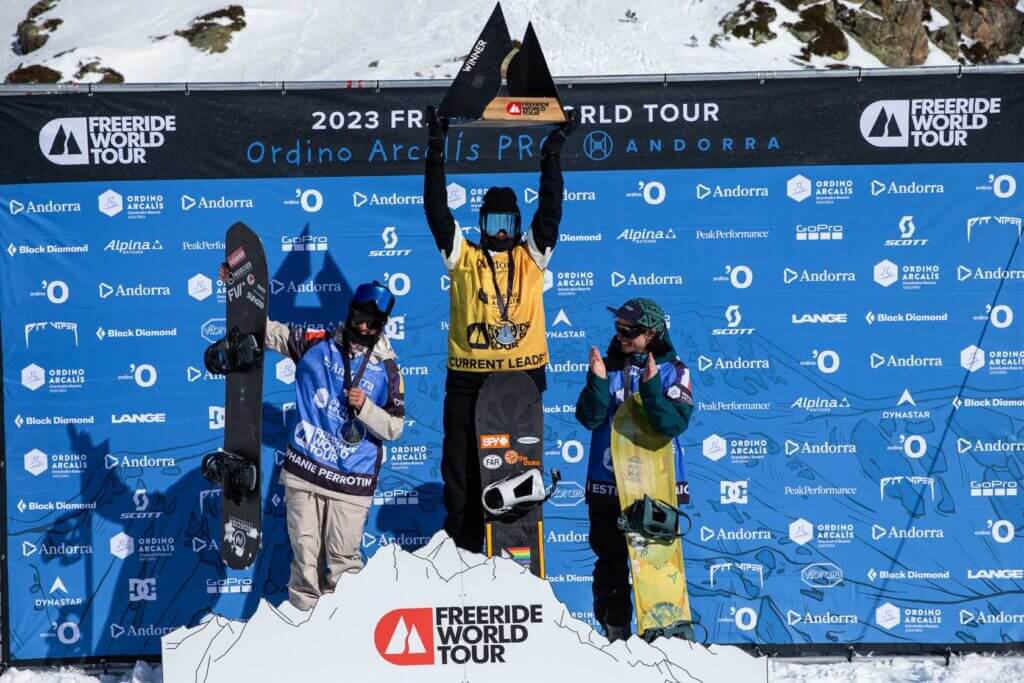 Snowboard men at Ordino Arcalís 2023
Ludovic Guillot-Diat from France secured his first victory in the FWT competition with an electrifying performance, which propelled him to the top of the overall rankings.
Ludo navigated a challenging section early on in his run, landing a big jump off a cliff, before executing several aerial tricks and a massive backflip.
Experienced competitor Jonathan Penfield from the United States placed second with a solid performance. At the same time, Mexican newcomer Liam Rivera earned his first podium finish in his debut year by placing third.
I feel so good. My run was okay; I missed a few jumps, but I am so happy. I have worked so hard in the last few years to make the tour again, so to be here on the podium, and to take the win as well as the yellow bib is just amazing.

Ludovic Guillot-Diat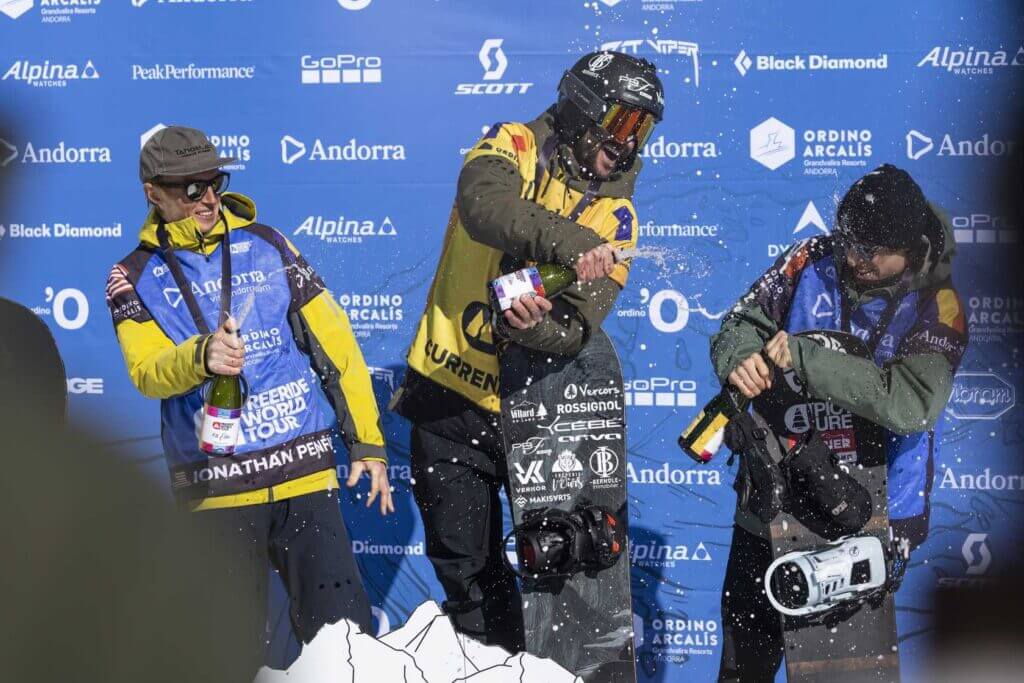 Ski women at Ordino Arcalís 2023
Justine Dufour-Lapointe from Canada won the competition with a graceful display of freeriding.
Despite having a successful background in mogul skiing, with numerous FIS World Cup podiums and two Olympic medals, this is only her second FWT competition, making her victory even more remarkable. Her run included several impressive elements, including a cleanly executed air into a cross-court air off a wind lip, a large jump off a cliff, and a straight-line descent to the finish.
Molly Armanino from the United States and Elisabeth Gerritzen from Switzerland performed well, finishing in second and third place, respectively.
It feels unbelievable to win here! Honestly, I had so much fun today, and I think I was lucky to be the last rider, as I could adjust my line and choose something different. I was able to showcase how playful I can be on skis and how much fun I can have. I reached my goal; I am super proud and so happy!

Justine Dufour-Lapointe
Ski men at Ordino Arcalís 2023
The top three competitors in the ski men category were separated by a mere three points, each delivering fast runs filled with freestyle tricks.
Valentin Rainer from Austria took first place with a run that showcased his skill and style, featuring a big air with a backflip, technical spins, and a final large backflip.
Ross Tester from the United States came in second, while Maxime Chabloz from Switzerland rounded out the podium in third.
I think my run went really well. I wanted to do three or four tricks, which ended up being two backflips and two 360s. I have always wanted to put down a run like this, and today was the day – I'm just so stoked. I lost a good friend in an avalanche a few days ago, so this run was 100% for him.

Valentin Rainer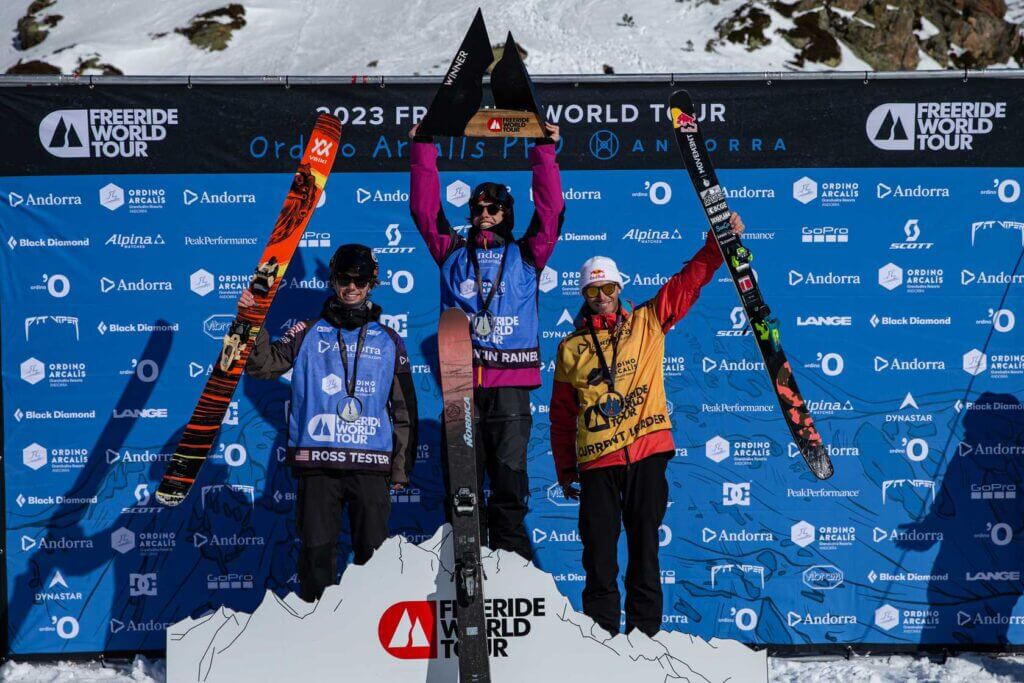 That's a wrap
Following a seamless move to the next stop, the second event of FWT23 was a success. The athletes will now travel to Kicking Horse Golden BC, Canada, from February 17th to 22nd for the third stop, which will be their final opportunity to earn points before the cutoff and progress to the FWT Finals.