The FWT23 Kicking Horse BC event will host a special exhibition this year. The aim is to add an artistic layer to the event for those who appreciate beautiful art. Along with skiing and snowboarding.
The Inspiration Behind the Exhibit
The idea for this year's art exhibit began as a way to pay tribute to the freeride culture– a culture that prioritizes creative self-expression.
Now, the FWT is a global phenomenon. However, before, it started as a small group of mountain enthusiasts and skiing and snowboarding fanatics.
The FWT has always been about sharing a love for riding new lines, experimenting with new techniques and technology, and expanding the boundaries of freeriding. However, unbeknownst to us, the competing athletes and supporting staff members all possess other hidden talents.
Therefore, this year's art exhibit will showcase a glimpse of those various talents.
FWT Featured Artists
The FWT23 Kicking Horse BC art exhibit will present the unique artwork of three talented artists.
Andrew Pollard
Andrew Pollard is a freeride legend in his own right. However, off the slopes, Andrew loves painting natural landscapes. This year, he teamed up with the FWT to produce a poster series that depict each of the five legendary competition venues.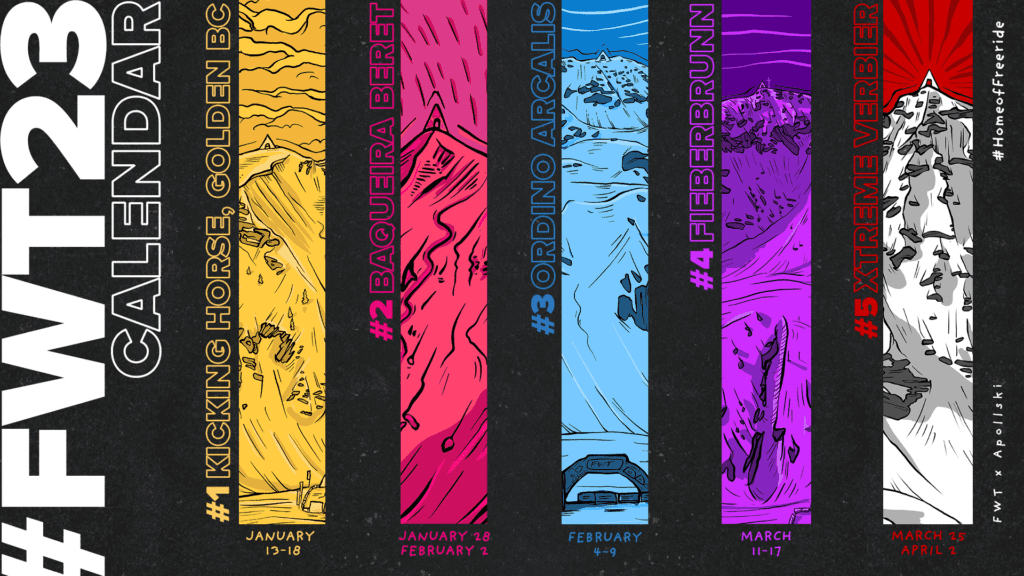 Dom Daher
Dom Daher was the FWT's first official photographer. He has dedicated his life to taking photographs not only of action and adventure in the high peaks but also of the beaches and bustling cities he encounters throughout his travels.
Jeremy Bernard
Jeremy Bernard has been a part of the FWT photographer crew for 13 seasons. He is an outdoor enthusiast that enjoys mixing natural elements into his artwork. Jeremy's intrigue for the world around him is always very apparent in his portfolio of photographs.
Supporting the Freeride World Tour
If you are one of the lucky ones who can attend the FWT in Kicking Horse BC event in person, you can see the exhibit at the Civic Center in Golden, BC.
Afterward, the organizers of this special event will continue to display the artwork at the Whitetooth Brewing Company.
All the pieces are for sale and can be purchased. Aftward, the FWT will donate proceeds to Wildsight Golden, a charity focused on combating ecological issues and supporting environmental conservation.