After spending years working for Oracle and the European Commission, Cristina decided to leave the corporate world to follow a new path opened by her love for mountains and the organisation of trekking expeditions in the Himalayas.
She is now based in Chamonix (France). Cristina is drawn to alpine-style mountaineering and higher and more technical peaks. She is working on her climbing and skiing techniques only to allow her to evolve more freely in the mountains.
Cristina is a real-life example that a drastic change of career is possible!
Follow Cristina on
Instagram | Facebook | Website
---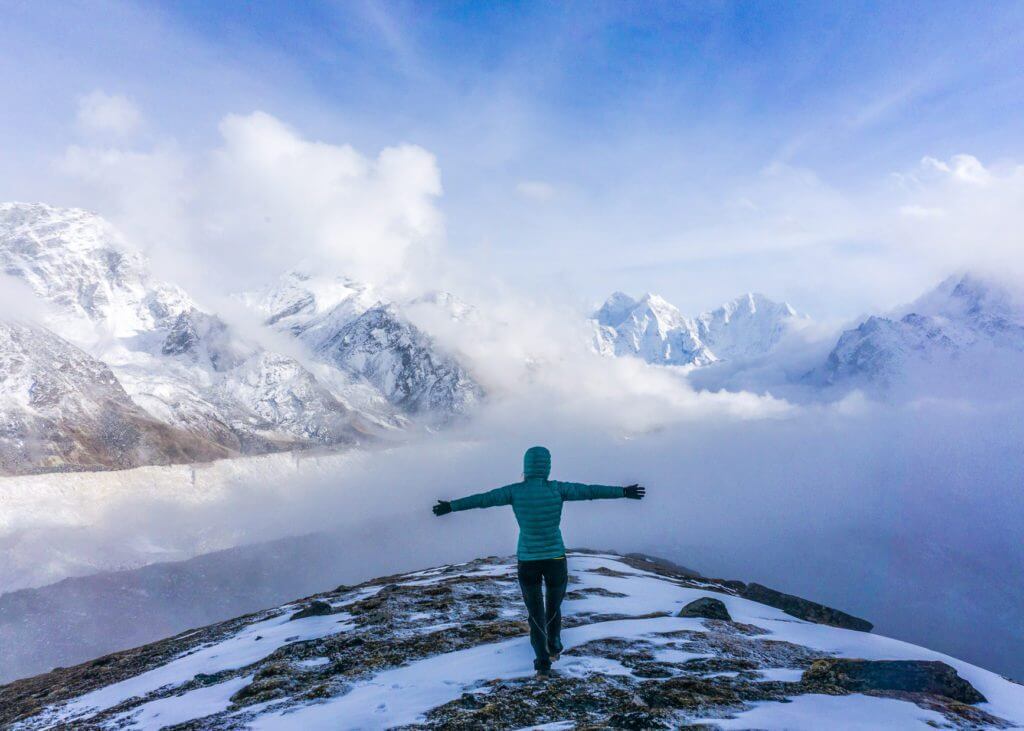 Corporate life
Where do you come from?
I'm originally from Romania, but I have always considered myself a citizen of the world. I wanted to travel. I also loved to be outdoors even though, in my youth, I was more of the "nerd type" and spent a lot of my time reading.
I started as a project manager for Oracle. Then, I moved on to work for the European Commission in Brussels. At this point, most people, including my family, were considering me an "accomplished" person. However, I was bored, and I decided to give it all up and take the nomadic path. I had worked on several projects since quitting my desk job. One of these is taking the shape of organising treks and expeditions in Nepal.
Where does this love for the outdoors come from?
Somehow I was always drawn by nature. I think – and the more I spend times outdoors, the more I see it – we, humans, have a powerful connection with nature. I also see we can learn valuable life lessons by observing nature. However, I only started doing outdoor activities/sports when I moved to Brussels. People were very active and outdoorsy there. A lifestyle that, 10 years ago, was not popular yet in Romania. While my parents took me in nature while growing up, it was nothing adventurous nor sport related.
Later on, I met someone who was into mountaineering too, and we started to go regularly in the Pyrenees. I got hooked. Nothing made me feel more free, alive and in line with the Universe than being out on an adventure.
Do you practice any specific sports? Why?
I climb, I do trail running, I ski, but I'm really average at all these sports.
My big love is mountaineering, being in an alpine environment. Everything else is to support me in my alpine endeavours. I also really like "proper" adventures in more remote places. This means self-sustained, solo or in a small group. Some of my favourite moments have been spent by myself in the Himalayan range, exploring a route with a few other people.
I do all of this because it makes me feel alive. It also helps me gain perspective. I think nature and mountains are great therapy and a source of inspiration and wisdom.
What book inspired you when you were younger?
I think some of my favourites were the classic adventure books of Jules Verne! I just loved those stories about places which didn't know existed, survival, discovery and exploration.
There was a Romanian book series as well about a group high school friends going on adventures in the Carpathian Mountains. I also enjoyed books following children's childhood in other parts of the world like the Adventures of Tom Sawyer and Huckleberry Finn.
The discovery of Chamonix and the Himalayas
Why are you based in Chamonix?
I first came to Chamonix in the summer of 2018 as a "tourist" going after the classical "Mont Blanc summit". I ended up staying and got a job by the end of my holidays and stayed here. The place charmed me.
First, because Chamonix has a unique and fantastic scenery.
Second, because it's more like a real town than a "ski-resort" – there is more to it than tourism. There is something to be done all year round. Lastly, I love it because it is very multicultural. It's really the capital of Alpinism, and it attracts athletes, photographers and passionate people from all over the world. They all come for the same thing: trying their limits in the high and rouged alpine environment!
How did you discover the Himalayas?
I went for the first time in Nepal in 2014. It was a group organized trip. At the time, I was not used to doing solo adventure travel. However, I had a special connection, and I knew I had to come back but had no idea when and how
A couple of years later, I was in Japan, in the middle of a breakup and looking for a trek that would take me away from the world for a while. Unfortunately, it wasn't the best period as it was in the middle of the monsoon season. The only place where trekking was possible was Nepal, Annapurna circuit, which was considered to be mostly in the "rain shadow'.
I was coming now with mountaineering and adventure travel experience, and I was hooked. The Himalayas are the perfect playground for this type of adventure. Over the following years, I went back to the Himalayas several times (spent a total of 1,5 years during 3 years). I climbed 2 6000m peaks (Island Peak and Mera peak).
During this time, I got more and more knowledge about adventure travel in the Himalayas and got closer to the locals and their culture. That is how the @DescoperaHimalaya project was born.
Since December 2019 I've been in Chamonix and couldn't go to the Himalayas this year due to Covid. I hope I can go back soon.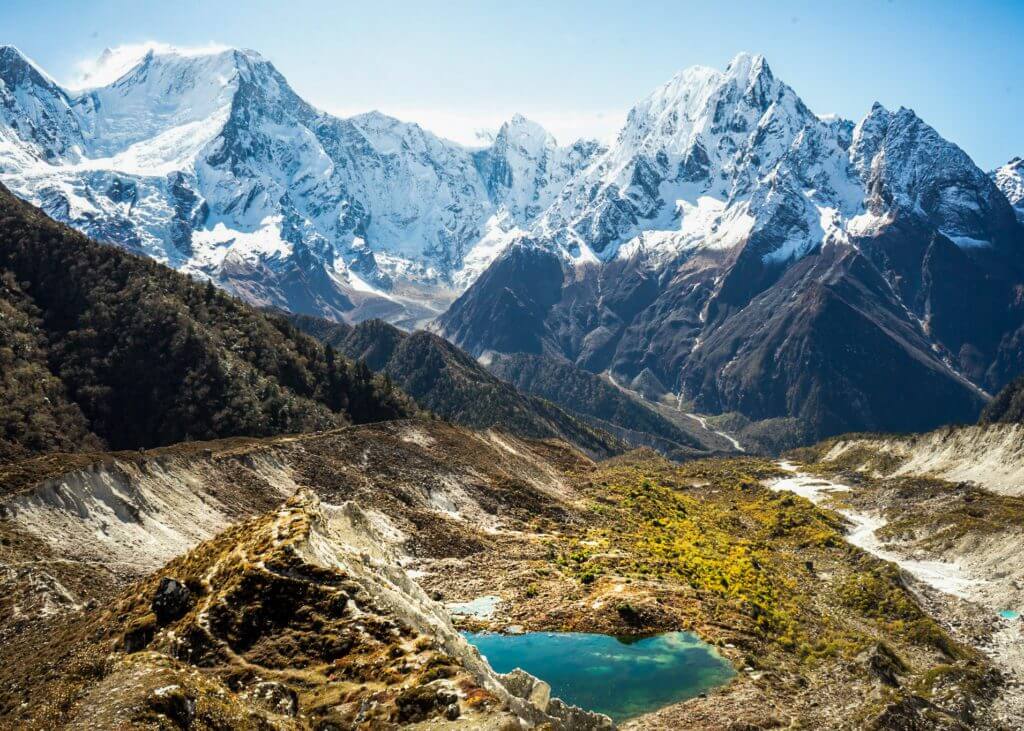 New activities and projects, trekking in the Himalayas
Tell us more about "Descopera Himalaya"
As I spent a lot of time there, I started to know guides, Sherpas, agencies, locals. To know who is trustworthy. They also treat me differently, not like a tourist.
What everyone knows about Nepal and Himalayas is Everest. Maybe a few more well-known treks, but there is so much more in terms of culture, tourism, and adventure. @DescoperaHimalaya (Discover the Himalayas) is a project that aims to educate, present and make you discover the Himalayas through treks and expeditions, often outside of the beaten path.
I started it in partnership with one agency in Nepal whose owner is my good friend. Currently, I am mostly growing in the Romanian market, where adventure tourism is still emerging. I would love to extend the project to other markets.
What are your next projects? How do you usually plan them?
For my own projects, I usually start with a dream, an article I read, a video or picture I've seen or just a look at a map. I am quite spontaneous and don't do much planning. Just go with the flow. That is how I ended up flying on Christmas day to New Zealand with no plan and ended up spending 2 weeks on a geological expedition boat in Fjordland. I didn't even know what Fjordland was when I applied for the gig.
I have many dreams… in the Chamonix valley, I want to climb the Aiguille Verte ("La Verte", as the locals call it). It is such a beautiful mountain but it is not an easy one.
I'd love to climb Alpamayo at some point in the future and more largely explore Patagonia for a few months.
Back in the Himalayas I'd love to organise and be part of a women-only, alpine-style climb of the Ama Dablam.
I don't train for a particular project. I train for overall fitness. I recently started running to improve my cardio and HR.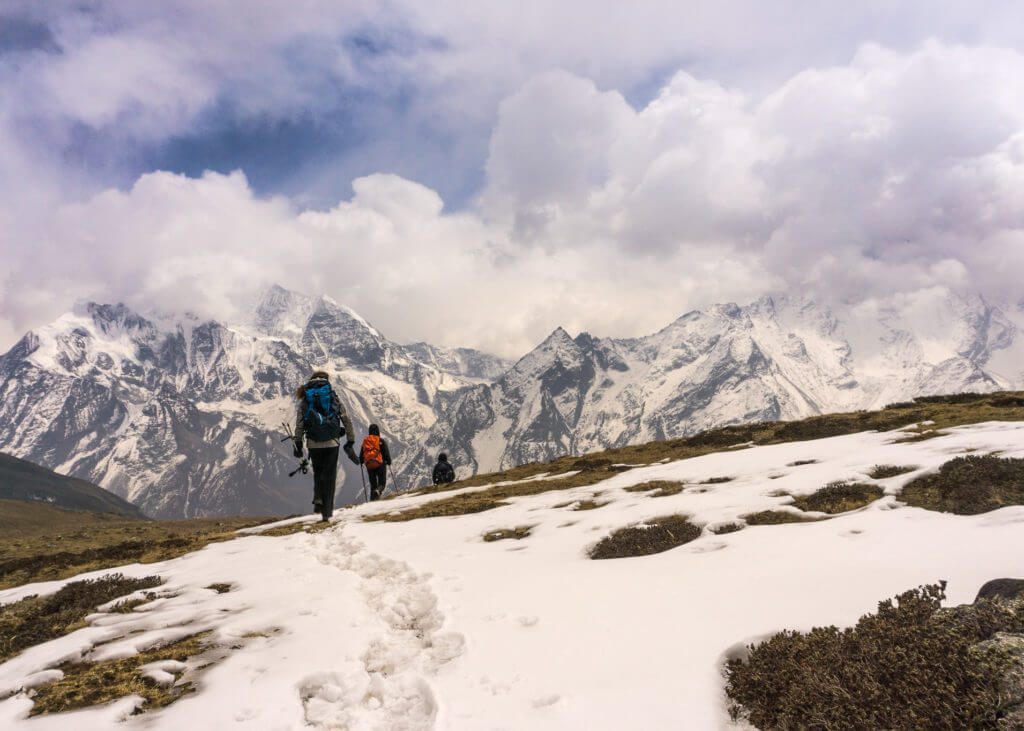 Trekking in the Himalayas, life in Chamonix – signs of Climate change
You spend a lot of time outside, do you see any signs of Climate Change?
Yes. When you live in Chamonix, you witness it all the time. The Mer de Glace ("the sea of ice") for example… it's crazy how it melted! Now I call it "Mer de cailloux" (the sea of rocks).
You can also notice how the relief is changing. This is particularly true in some parts of the Himalayas where there are more and more landslides. Landslides also happen because of deforestation. Not really climate change but definitely the mark of human activities.
Tourism is also changing the face of nature: trails are more worn out, the terrain is deteriorating, local cultures change, more hotels/guest houses/access roads are built. All this has an impact, and you can see it in the space of a few years.